What makes a good shade fabric?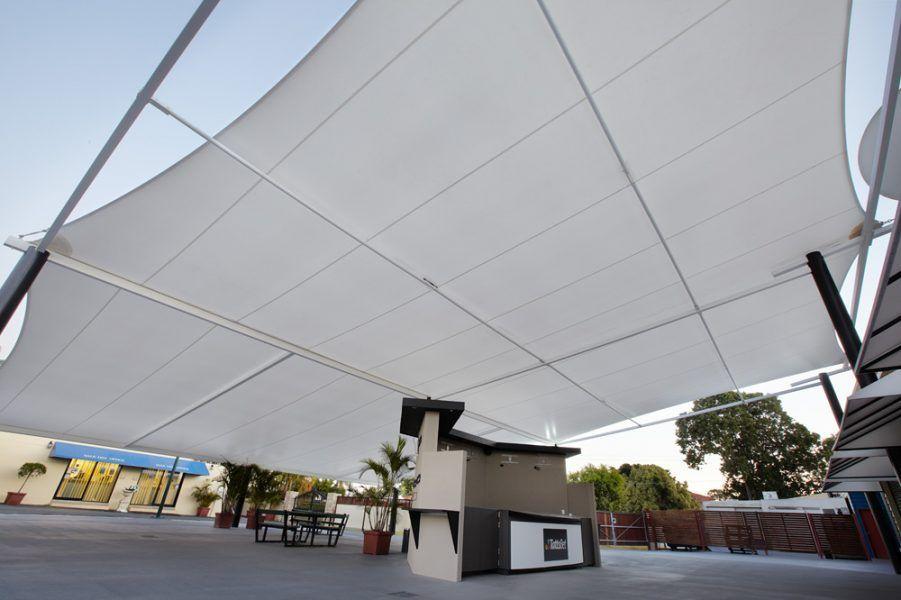 When thinking about buying shade sails, there are so many things to consider. The most obvious are the colours and the shapes, but if you are truly looking for shade sails that not only suits your needs, but will last a really long time, then you need to pay specific attention to the shade fabric before you purchase it. So what makes a good shade fabric?
At Global Shade, we have spent more than 25 years designing, manufacturing and installing shade sails throughout Australia and in that time, we have come across different shade fabrics. Because of our extensive experience, we can tell you precisely what kind of fabric to look out for when you are buying your shade sails. Bear in mind that there are different fabrics for different purposes, however, these tips below will help you make the right choice.
Quality of fabric
The quality of the fabric usually comes in two different forms; HDPE (High Density Polyethylene) shade cloth and canvas fabrics. If you are searching for high quality shade fabric with a long lifespan and high levels of UV protection, then it is always better to go for the knitted shade fabrics created from HDPE. You also need to ensure that the HDPE fabric has UV additives to protect you from harmful UV rays and from the effect of the unforgiving Australian sun.
Type of fabric
The type of fabric is also as important as the quality of the fabric. It is important to get shade sails that meet your needs. So if you are installing shade sails primarily for protection from the sun, then one with high levels of UV protection will serve. However, if you need shade sails that will not only protect you from the sun, but also from the other elements such as rain and light storms, then you should go for waterproof shade fabrics. The rule of thumb for fabrics with high UV protection is that the darker fabrics have higher UV protection. As for waterproof shade fabrics, they are usually strong but lightweight.
Stitching
The stitching used on the fabric is also another important feature to think about before buying your shade fabric. Top quality shade fabrics like those we use at Global Shade are stitched using high grade PTFE threads as well as triple enforced connection points. There could also be vinyl patches placed expertly between layers for added fortification. The use of top grade stitching thread is vital because of the high content of UV stabilisers in the threads. This ensures that the UV levels of your shade sails remain high for a really long time.
UV Protection
We cannot overemphasize the importance of UV protection in your shade fabric. The truth is, while all shade fabrics might offer protection from the sun, they don't all give the same amount of UV protection, so this is something you should look into when choosing your shade fabric. The recommended level of UVR block by ASTM standards is a minimum of 93%.
For more information about shade fabrics, read my Shade Sail Material Guide.
Conclusion
Before you purchase shade sails, it is important to consider what makes a good shade fabric. The quality of the fabric is always an important consideration, same as the type of fabric and the purpose it is going to serve. The stitching of the shade fabric is not something most people think about, but it is also a vital aspect to consider. Finally, the UV protection levels should meet the minimum standard for quality shade fabric.
At Global Shade, we use only the highest quality shade fabrics in all our shade manufacturing. Some examples of the top grade shade fabric we use include Xtreme 32, Dri Z, Ferrari, Z 16, naizil Cover and Extrablock. For top quality shade fabric that meets the highest industry standards, get in touch with us today.