Awnings: Care, Cleaning, and Maintenance
March 21st, 2015 · Published to Awnings by nicole
Awnings are a great way to provide shade and shelter for residential and commercial spaces whether you're in Melbourne or anywhere else in Australia.
They are durable and affordable and can be customised to fit any architectural feature or décor scheme. With so much going for them its little wonder you're looking for awnings in Melbourne.
To make the most out of the money you've invested on awnings in Melbourne, you have to know how to take care of them, how to clean them properly, and how to maintain them in order to ensure longevity and durability.
These are questions our customers often ask us so in this article I will explain the trade secrets to keeping awnings in Melbourne, and throughout Australia, in tip-top shape, regardless of the season and weather condition.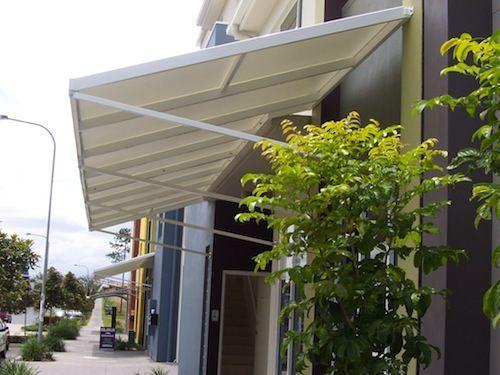 Cleaning and maintenance
Whether you've bought awnings in Melbourne, Sydney, Brisbane or Perth, regardless of your location, cleaning is very important—remembers that they are structures installed outdoors and thus exposed to the different elements day in, day out. Without proper cleaning, the fabric and materials your awnings are made out of can deteriorate and fail to give you, your family, or your customers the protection it was designed for.
Awnings are made of different types of fabrics and materials, and you should clean them accordingly. Vinyl is one of the most common materials for awnings, and is one of the easiest materials to clean. Good vinyl awnings typically have a smooth surface, and can be wiped down with a damp cloth or non-abrasive cleaner.
You should make sure that your awnings are cleaned up regularly. You can take a dry, clean cloth (or a microfiber duster) to brush off the loose dirt that accumulated on top of the awning. You can also hose the awnings down, before rubbing it (with a soft-bristled brush or a soft, clean cloth) with a solution of non-abrasive, gentle dishwashing liquid. Rinse the soapy solution and allow the fabric to dry outdoors.
If you spot some stubborn stains, you can dilute some bleach and soap in a bowl of water, and use the solution to clean the stains away. Awnings can sometimes foster the growth of mold, and although most of the fabrics that Global Shade use for awning are the best available, foreign objects or dirt particles can provide a place for mold and mildew to grow.
When this occurs, you can use a solution of a cup of bleach, a quarter cup of mild soap, and 4 liters of clean water. Make sure that the solution soaks the fabric for around fifteen minutes before rubbing it and cleaning it off with a soft-bristled brush. Rinse thoroughly and air dry; repeat if the stains persist.
If you think that you are not up to the task of efficiently cleaning your awnings in Melbourne, you can always bring in the professionals. Most Melbourne cleaning companies will know how to clean awnings; but make sure to leave instructions regarding the care of your shades, canopies, and awning just to make sure. For example, not all fabrics are dry cleaner-friendly, and some fabrics might react adversely to cleaners and bleach products. Also, most companies that manufacture awnings in Melbourne use quick-dry materials that are easy to wash and fast to dry—hassle-free and convenient!
Conclusion
Awnings in Melbourne are great outdoor shade solution, but you have to make sure to clean them regularly in order to maintain their protective qualities, colours, and durability. For durable awnings in Melbourne, and across Australia, contact Global Shade. With Global Shade, we offer endless customisation and design options that will fit your needs and preferences, so you'll be sure to find the best awnings for you and your home or business.
Related Topics