4 Considerations Before Ordering a Custom Shade Canopy
February 27th, 2019 · Published to Canopies by Steve Lewis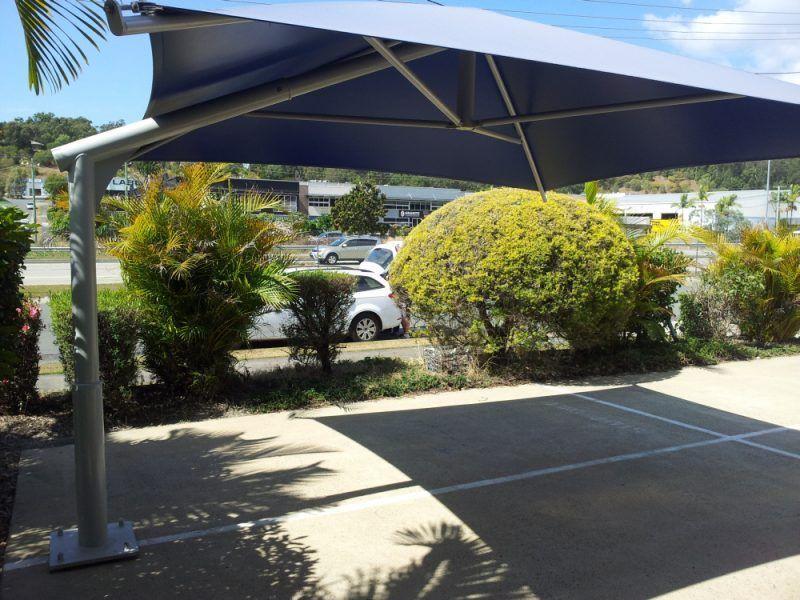 Shade canopies are a versatile shade solution that can be used across both residential and commercial applications. Regardless of what application you have in mind, you can have a custom shade canopy made for any outdoor area – be it a home, a café or restaurant, a shopping centre car park or even a children's playground.
However, before you jump into ordering a custom shade canopy, there are certain factors you need to consider. Today we'll take a look at what you need to consider when custom ordering a shade canopy.
1. Shade canopies come in different types
The first thing you need to know about shade canopies is that they come in different types. The most common types of shade canopies include shade sails, umbrella shades, cantilever shades and square, rectangle and hexagon hip end shades.
If you're looking to use a shade canopy in a residential application, a shade sail or umbrella shade will probably suffice. On the other hand, if you're looking for a custom shade canopy for a commercial application, you should consider cantilever shades or hip end shades.
2. Size of shade canopies
The best part about custom shade canopies is that you can get them designed in any size or shape that you need. While you may be tempted to use the largest size shade canopy that is possible, remember that you should not overwhelm your space with a canopy.
Consider your requirements and make sure that the canopy will suit your space. If you are unsure, you can take the advice of a shade company, such as us at Global Shade. Our shade experts will be happy to assist you in choosing the right size and shape for your needs.
3. Canopy appearance and material
Custom shade canopies, such as those we manufacture at Global Shade come in a variety of fabric options. The choice of fabric determines the appearance, longevity and UVR protection provided by the shade canopy.
At Global Shade, we make use of industry-leading shade cloth fabrics. These include Rainbow Z16, Rainbow Xtreme 32, Protex Parasol, Commercial 95, Allnet Extrablock and Monotec 370. We also use waterproof shade fabrics including Ferrari 502, Polyplan 680 and Valmex 580S. All shade fabrics offer excellent UVR protection, and extensive warranties cover them.
4. Portability and structure
Finally, you need to determine if you need a portable shade canopy or a fixed one. Shade canopies can be suspended with ties or hooks to create portable structures, or they can be attached permanently to create fixed structures.
Consider your requirements to decide which type of custom shade canopy best suits your needs and space. If you're unsure, you should seek professional advice from our shade experts here at Global Shade. We'll be happy to help you understand more about portable and fixed shade canopies.
Conclusion:
When it comes to ordering a custom shade canopy, there are certain factors that you need to consider. First, you must understand that shade canopies come in many different types, and you'll need to choose one depending on your needs. Consider your requirements and choose a canopy size suitable for your space. Shade canopies can be custom designed in a variety of sizes, shapes, and colours. Finally, consider whether you want a portable shade canopy or a fixed one.
To order or enquire about custom shade canopies on the Gold Coast, get in touch with the leading manufactures in the region, Global Shade. Call 1800 724 407 to discuss your requirements with one of our shade canopy experts today!