Carport Awnings: Everything You Need to Know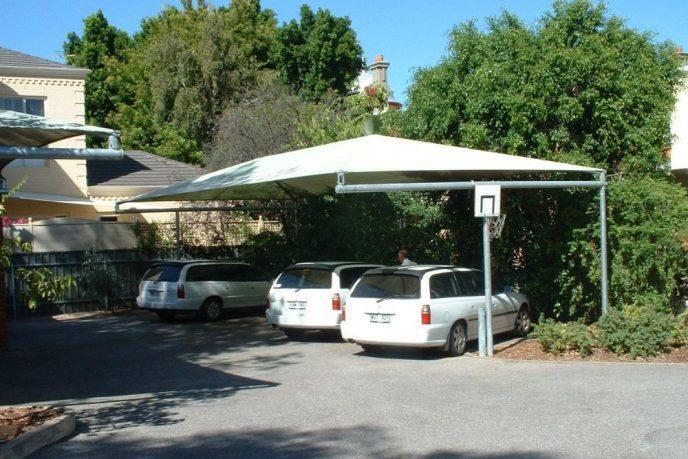 June 24th, 2020 · Published to Awnings, Car Ports by Steve Lewis
Carport awnings are a cost-effective alternative to a permanent carport or garage, and may just be the perfect solution to your car shading needs.
Here at Global Shade, we specialise in all types of shade products for all types of applications, including carport shade solutions like carport awnings. Unlike permanent carports, carport awnings offer a semi-permanent and much more affordable solution to shading cars.
If you're interested in having a carport awning installed at your home or place of business, then this article will be of particular interest to you. Continue reading to find out everything you need to know about carport awnings.
Carport Awning Designs
There are countless design options when it comes to carport awnings, which also happens to be one of their best attributes. Unlike permanent carports, carport awnings can be designed with a little bit of flexibility.
When most people think of awnings, they think of the retractable type. But this is just one type. For carport awnings, fixed awnings are a better choice.
Fixed carport awnings, generally consist of a frame which comprises four posts or more posts. Framework spans across the top of the posts to support the awning material, and it is the awning material, which provides protection for the cars below. The frame can be manufactured from aluminium or steel, with the latter being the more durable choice.
Designs can be flat or arched depending on your preference, and both the frame and the material can be coloured to match a home.
Waterproof and Non-Waterproof
Carport awnings need not be waterproof, though this is the more common choice. Waterproof carport awnings and non-waterproof carport awnings are the same in installation and design, it is only the material that changes.
Expectedly, waterproof carport awnings are more costly than the alternative. This is because the material is of higher quality, and is typically the same which is used in commercial applications. They provide sun, rain, and hail protection for cars. At Global Shade, we give customers the choice of which waterproof material they prefer. Our selection includes the likes of Ferrari 502, Polyplan 680, and Valmex 580S.
Non-waterproof carport awnings provide cost-effective car protection against the sun and hail. They are manufactured from shade cloth materials and can offer as much as 99% UV protection and either a 10 or 15-year warranty. At Global Shade, we utilise the best shade cloth fabrics the world has to offer, including Rainbow Z16, Rainbow Xtreme 32, Polyfab Parasol, Commercial 95, Alnet Extrablock, and Monotec 370 series.
Conclusion
There are many carport options available across Australia. One of the most common is, of course, a permanent carport fixture, such as an open garage. However, these can be expensive and not always suitable. As such, there is a growing demand for semi-permanent carport shade solutions. Carport awnings are one such solution, and we here at Global Shade are loving the fact that more any more Australians are choosing to have a carport awning installed over permanent carport options.
Carport awnings are available in a diverse range of designs. However, they generaly cosist of a steel frame with four posts and have either a flat or arched cover on the top. They can also be waterproof or non-waterproof to meet your needs and budget.
If you'd like more information on how we, Global Shade, can assist you with a carport awning or would like a quote for a carport awning, then give us a call on 1800 724 407. As shade manufactures, we have the experiences and equipment to custom make the perfect awning for your carport needs – and can do so cheaper than retail prices!