Shade Sails & Structures for Outdoor Dining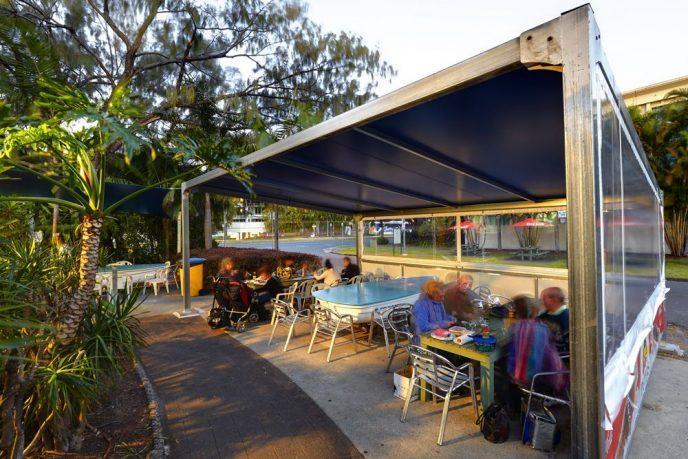 August 18th, 2021 · Published to Applications, Commercial by Steve Lewis
Creating an outdoor dining space that attracts and protects dining customers during all weather events can make a significate difference to a food-related business's bottom line. Without providing customers with a covered outdoor dining area, you will quite literally be washing away tens of thousands of dollars down the drain along with the rainwater.
With the help of Global Shade, you can provide a welcoming outdoor dining area that will enable you to continue serving customers during wet weather and provide them with sunshade during hot sunny days.
Custom Shade Sails and Shade Structures For Outdoor Dining Areas
Global Shade specialises in manufacturing custom shade sails and shade structures for the outdoor dining areas and have been doing so for more than two decades. We understand the needs of businesses in the food services industry and can create shade sails or shade structures, including canopies and tension membranes, to fit any area, of any shape and size.
Whether you're after one shade sail, multiple shade sails, lotus canopy, tetra canopy, hypar canopy, framed canopy, or an architecturally designed structure, we can help. We will create the material component needed to complete the structure quickly, affordably, and most importantly, from quality fabric or material that will provide excellent longevity.
Shade Cloth and Waterproof Outdoor Dining Shade Solutions
When investing in custom shade sails and shade structures for the outdoor dining areas, there are two main options; a sun solution and a waterproof solution. A sun solution is made from shade cloth and can offer up to 99% UV protection depending on the fabric, while a waterproof solution offers 100% UV protection and 100% rain protection.
Unless you have a huge indoor dining area large enough to cater to all customers during showers or a storm, a waterproof solution will be the better option for an outdoor dining area. We offer a range of the very best waterproof fabrics, including Ferrari 502, Polyplan 680, and Valmex 580S. You can choose the fabric and colour to meet your budget and branding.
Learn more about the available fabrics from our Fabrics page.
The Global Shade Process
With Global Shade, the process of getting a custom shade sail or custom shade structure, such as a canopy or tension membrane, installed over an outdoor dining area is straightforward.
Start the process by contacting the team at Global Shade with your shade sail/shade structure requirements. We will connect you with one of our local installers, who will visit your establishment to review the outdoor area. They can discuss the design options and recommend whether shade sails or another shade structure is best suited to cover the alfresco/outdoor dining area.
Our local installers will take your outdoor dining area measurements and provide a no-obligation quote outlining all costs. If you accept the quote, the design of the fabric component is sent to Global Shade to be manufactured, which is usually a 10-12 day turnaround.
The installers then construct and install the shade sails/shade structure to complete the process.
Conclusion
The food services industry can be very competitive, and you don't need to be losing customers to your competitors due to inadequate covering or no covering of your outdoor dining area.
Shade sails and structures offer a versatile and affordable option for protecting outdoor dining areas from the sun and rain. While shade cloth sails and structures are an option, waterproof shade sails and canopies will provide protection against both the sun and rain.
If you run a café, restaurant, bar, hotel, or another establishment in Brisbane, Gold Coast, Melbourne, Newcastle, Sydney, Sunshine Coast, Tweed Heads, or the Central Coast, that needs an all-weather shade solution, Global Shade can help!
Global Shade makes getting shade sails and shade structures for outdoor dining areas quick and easy. For a free measure and quote, contact us online or click the button below.