Shade Sails & Structures for Shopping Centre Car Parks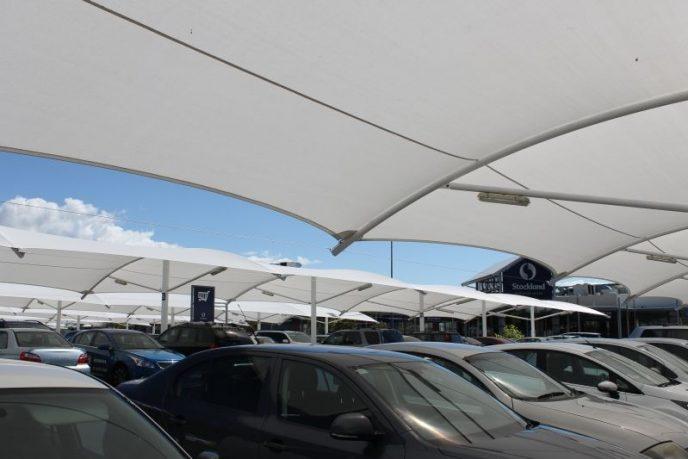 Attract more customers to your shopping centre with quality car park shade structures from Global Shade.
Having a car park with no shade can be a real turn-off for customers. No one wants to return to a stinking hot car after spending hours shopping. By investing in shade sails and shade structures for shopping centre car parts, you can rest assured knowing your customers won't be put off by such an issue.
Whether you manage a small strip mall or a major shopping centre, whether the complex is located in Brisbane, Gold Coast, Melbourne, Newcastle, Sydney, Sunshine Coast, Tweed Heads, or the Central Coast, if you're after shade sails or shade structures for car park shade; you've come to the right place.
Custom Shade Sails and Shade Structures For Shopping Centre Car Parks
Global Shade manufactures the fabric component of car park shade sails and structures for installations across Australia. We have a wide network of shade sail and shade structure installation companies that we work with to deliver the highest quality solutions for shopping centres, big and small.
Our shade industry experience has made us the go-to company for all commercial shade solutions, including car park shade sails and structures. As manufacturers, we specialise in custom solutions to meet all needs and budgets. Regardless of how expansive or contained your car park may be, together with a local shade installation company, we can deliver a robust solution for your customers.
Shade Cloth and Waterproof Shopping Centre Car Park Covers
We specialise in both shade cloth and waterproof shopping centre car park covers. So, whether you're looking for a cost-effective solution that provides excellent sunshade or a superior solution that protects against the sun and rain, we can create a car park cover to fit the bill.
We understand that winds can reach wild speeds and that you want your investment to offer maximum longevity. For this reason, we only use the very best materials and fabrics. We also use high-quality PDFE thread for stitching and reinforce our shade sails with stainless steel wires for added strength and durability.
We offer your choice of the following fabrics for shade cloth car park covers; Rainbow Z16, Xtreme 32, Polyfab Parasol, Commercial 95, Alnet Extrablock, and Monotec 370 series. And for waterproof car park covers, Ferrari 502, Polyplan 680, and Valmex 580S.
The Global Shade Process
With Global Shade, the process of installing custom shade sails or custom shade structures over shopping centre car parks is quick and easy.
Simply contact the team at Global Shade with your shade sail/shade structure requirements to get started. We will connect you with one of our local installers who will visit your shopping centre to review the car park. They can discuss the design options and recommend whether shade sails or another shade structure, such as a canopy or tension membrane, is best suited to cover the area.
Our local installers will take measurements of the car park area you wish to cover and provide a no-obligation quote outlining all costs. If you accept the quote, the design of the fabric component is sent to Global Shade to be manufactured, which is usually a 10-12 day turnaround.
The installers then construct and install the shade sails/shade structure to complete the process.
Conclusion
Make your shopping centre attractive no matter the weather conditions by investing in top-quality car park shade sails and shade structures manufactured by Global Shade. We custom manufacture car park covers to any size, shape, and format, from the industries very best fabrics.
We make getting shade sails and shade structures for shopping centre car parks quick and easy. For a free measure and quote, contact us online or click the button below.