Shade Sails & Structures for Swimming Pools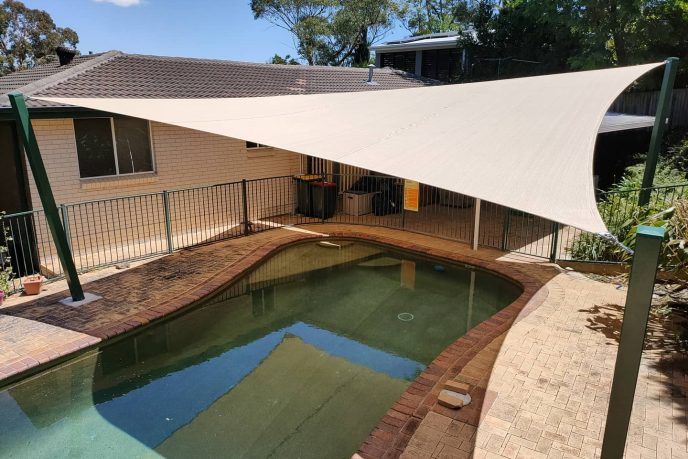 Transform your pool into a sun-safe environment, allowing your children to play and swim in the pool for hours on end by investing in shade sails and shade structures for swimming pools.
With Global Shade's superior shade sails and shade structures for swimming pools, you can rest assured knowing your kids will are well protected from the sun's dangerous UV-Rays, while add value to your home in the process!
Whether you live in Brisbane, Gold Coast, Melbourne, Newcastle, Sydney, Sunshine Coast, Tweed Heads, or the Central Coast, if you're after shade sails or shade structures for your backyard pool, you've come to the right place.
Custom Shade Sails and Shade Structures For Swimming Pools
There's little point in instaling a shade sail over a pool if it doesn't provide adequate shade. You can't expect kids to stick to playing or swimming only in the shaded area of a pool. They're excited, having fun, and staying in the shade is the last thing on their mind. You need a shade solution that provides complete coverage.
Global Shade's swimming pool shade solutions provide up to 99% UVR protection over the entire pool. We manufacture shade sails and shade structures for swimming pools of any shape and size. Whether it's a small hot tub or a large 10m x 4.2 m swimming pool, we can provide not only a cover that offers excellent UVR protection but a cover that really enhances the look of your backyard.
Shade Cloth and Waterproof Swimming Pool Shade
Our swimming pool shade solutions are manufactured from the toughest, most durable, and most UV-resistant fabrics the world has to offer to ensure the very best solar protection. We offer a selection of shade cloth fabrics in an assortment of colours, UV ratings, and warranties to meet all requirements and budgets. Such fabrics include Rainbow Z16, Xtreme 32, Polyfab Parasol, Commercial 95, Alnet Extrablock, and Monotec 370 series.
UVR protection is paramount when choosing fabric for swimming pool shade sails and shade structures. However, you may also want your pool sade cover to be waterproof. We can also provide waterproof shade sails and shade structures for swimming pools.
You can learn more about our fabrics from our Fabrics page.
The Global Shade Process
With Global Shade, the process of getting a custom shade sail or custom shade structure, such as a canopy or tension membrane, installed over a residential swimming pool is quick and easy.
Simply contact Global Shade with your swimming pool shade sail/shade structure requirements to start the process. We will connect you with one of our local shade installers, who will visit your home to view the area. They can discuss the design options and recommend whether a shade sail or another shade structure is best suited to cover your swimming pool.
Our local shade installer will take measurements of your pool area and provide a no-obligation quote outlining all associated costs. If you accept the quote, the design of the fabric component is sent to Global Shade to be manufactured, which is usually a 10-12 day turnaround.
The installers then construct and install the shade sails/shade structure to complete the process.
Conclusion
Allow your kids to spend the day in the pool without worrying about re-applying sunscreen every two hours by investing in quality swimming pool shade sails and shade structures from Global Shade.
We custom manufacture the highest quality shade solutions for pools made from the world's best shade fabrics. There is no area too big or too small for our experienced team.
Global Shade makes getting shade sails and shade structures for residential swimming pools quick and easy. For a free measure and quote, contact us online or click the button below.