Request a Free Quote

Blog Categories
Extrablock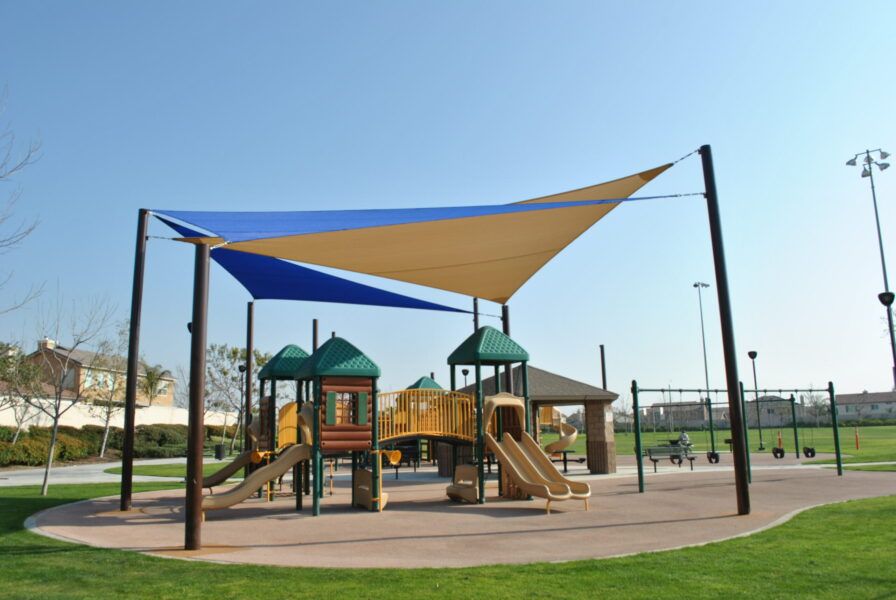 Global Shade relies on the highest-quality shade cloth fabrics when manufacturing our shade sails and structures, and Extrablock is no exception. As one of the most robust shade cloth fabrics in the industry, it allows us to offer customers a diverse range of colours and exceptional UV protection of up to 98 per cent.
Alnet is the manufacturer behind Extrablock and has been one of the world's leading innovators in synthetic textile and netting material production for over half a century. Using the latest technology and tools, Alnet offers a proprietary blend of UV protection and lock-stitch knit textiles in a wide variety of colours to cater to any shade project.
Ensure their products meet the highest standards; they back their products with a 10-year warranty. Alnet products, including Extrablock, hold various certifications, demonstrating their dedication to quality, durability and safety.
The Fabric
Extrablock is a 325gsm HDPE shade cloth fabric with a high tensile strength. It is made using 16 gauge designs on state-of-the-art Karl Meyer Raschell knitting machines. The knitting is dimensionally stable due to the monofilament and tape employed. Heat Set stentoring is used in the production process to minimise fabric shrinkage and make the shade cloth more stable and simple to work with.
Extrablock is renowned for its strength and protection due to its almost equal elongation in the warp, weft, and bias directions. It performs well in difficult settings while retaining its shape and style. Additionally, Extrablock is smoother and less bulky than comparable shade cloth fabrics on the market. The lower profile of Extrablock not only helps the manufacturing process but also speeds up production and minimises potential mistakes.
With all colours exceeding the NSW Cancer Council's recommended UVR Block of 94 per cent, Extrablock gives some of the finest protection of any shade cloth on the market, ranging between 94 and 98 per cent.
Extrablock is a high-quality shade cloth option back by a remarkable ten-year guarantee. You can trust that Extrablock has been rigorously tested to survive Australia's severe climate and environment.
The Benefits
Extrablock is one of the most popular shade cloth fabrics in Australia and one of the most popular options among Global Shade customers for a variety of reasons.
Aside from the high UVR Block factor of 94 per cent and 98 per cent and a Shade Factor between 88 per cent and 98 per cent, Extrablock is also flame retardant. Other noteworthy advantages are its resistance to dimensional stability, UV Stabilised properties, superior strength, and impressive 22 designer colour variety. It is also SABS Approved, holds a Verified Bee Rating, and is 100% recyclable.
Colours in the Extrablock range include Cream, Beige, Yellow, Red, True Blue, Forest Green, Silver, Sunblaze, Latte, Bottle Green, Charcoal, Midnight, Mint Green, Dove Blue, Oxide Red, Pearl Onyx, Purple, Olive, Brown, Navy Blue, Lime, and Hazelnut.
The Applications
Extrablock is a commercial-grade architectural shade fabric that is typically used on shade sails and tension structures in domestic, residential, and commercial applications.
Extrablock is suitable for sails, awnings, and umbrellas due to its versatility. It can be used for just about any project, including single shade sails, a series of shade sails, lotus canopies, tetra canopies, hypar canopies, framed canopies, and architecturally designed shade structures.
There are minimal constraints regarding the kind of applications it is suitable for. However, Extrablock best serves large-scale commercial applications. For example, shopping centre car parks, sports courts and amenities, outdoor spaces, hospitality operations, commercial and public pools, and other commercial enterprises can avail themselves by choosing Extrablock in their shade solutions.
Conclusion
Alnet Extrablock shade fabric is designed for strength and endurance to withstand Australia's harsh weather conditions. It is a world-class knitted HDPE shade cloth that is manufactured to strict quality requirements.
It is the shade cloth of choice for many of our residential and commercial applications due to its exceptional UV protection and flame retardant properties. Extrablock consistently produces exceptional results, from small shade solutions around the house and pool to vast commercial vehicle parks and sports courts.
If you would like additional information about Extrablock or how we use it for our commercial shade sail and shade structure projects, please contact us as soon as possible.