Request a Free Quote

Blog Categories
Shade Sails Newcastle
Are you looking for quality shade sails Newcastle? Then look no further than Global Shade; your Australia-wide shade sail manufacture. We are Newcastle shade sail specialists and can manufacture shade sails to your desired size and shape. Whether you're looking to shade your Newcastle home or business premises or looking for a shade solution that is also waterproof, we can deliver the perfect solution to meet your needs and budget.
Global Shade is located in Northern NSW and has been manufacturing Australia's best quality shade sails and waterproof shade sails for more than 25-years. We excel in custom shade sails and offer your choice of the world's leading shade cloth and waterproof fabrics. Our quality shade sails will provide years of sun and rain protection for your Newcastle home or business.
Residential Shade Sails for Newcastle Homes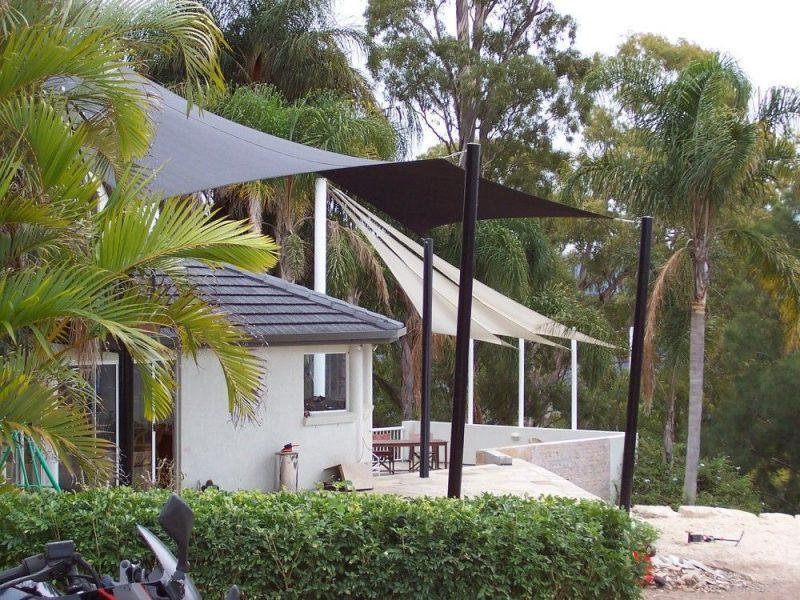 If Newcastle summers are becoming a little too hot for comfort, turn down the temperature with Global Shade's residential shade sails. Worrying about your children getting sunburnt or your patio area becoming too hot to entertain will all become past worries.
Our residential shade sails in Newcastle will transform any outdoor area into a cool space you can enjoy once more. You kids can swim in the pool all day, play on the playset as long as they like and you can entertain outdoors without having to move indoors when the temperature gets too hot.
Whether you are looking to shade your car in the driveway, your outdoor entertaining area, the kids as they swim or play in the yard or sandpit, we can help!
Common Newcastle residential shade sails installations include
Shade sails over driveways
Shade sails over outdoor entertaining areas/patios
Shade sails over pools
Shade sails over outdoor play equipment and sandpits
Shade sails over door entries
Commercial Shade Sails for Newcastle Businesses
Is your Newcastle business suffering from having no comfortable outdoor environment for customers or staff? Imagine the difference commercial shade sails could make. With up to 99% UV-R protection from standard shade sails and 100% rain protection from waterproof shade sails, you'll kick yourself that you weren't proactive sooner.
Global Shade specialises in manufacturing commercial shade sails for Newcastle businesses just like yours. We manufacture custom shade sails from the world's best commercial shade materials, including PVC waterproof fabrics, to deliver the absolute best shade and all-weather solutions for your businesses needs and requirements.
Whether you own a restaurant, café, hotel, pub, sports centre, theme park, shopping centre, an educational facility, farming/agricultural business, or otherwise, we can help!
Common Newcastle commercial shade sails installations include
Shade sails over alfresco dining areas
Shade sails over shopping centre car parks
Shade sails over hotel swimming pools and aquatic centres
Shade sails over walkways and entrances
Shade sails over communal outdoor areas
Cheap Shade Sails Newcastle
If you're looking for cheap shade sails Newcastle, you'll find none better in quality at cheaper prices than ours. As shade sail manufacturers, there is no retail markup when you purchase shade sails direct from us. We can design and deliver your shade sails, for you to install or have a local installer install for you.
For even cheaper shade sails in Newcastle, consider purchasing one of the nine options in our DIY range, which are just as robust as our custom shade sails. Our DIY Shade sails come in three shapes, three sizes, and your choice of 25 modern colours to complement your home or business.
For cheap shade sails in Newcastle, that stuck up in quality to the very best in the market, turn to Global Shade.
Newcastle Service Areas
If you live in Newcastle, in the suburbs of Adamstown, Adamstown Heights (part), Bar Beach, Beresfield, Birmingham Gardens, Black Hill (part), Broadmeadow, Callaghan, Carrington, Cooks Hill, Elermore Vale, Fletcher, Fullerton Cove, Georgetown, Hamilton, Hamilton East, Hamilton North, Hamilton South, Hexham, Islington, Jesmond, Kooragang, Kotara, Lambton, Lenaghan, Maryland, Maryville, Mayfield, Mayfield East, Mayfield North, Mayfield West, Merewether, Merewether Heights, Minmi, New Lambton, New Lambton Heights (part), Newcastle, Newcastle East, Newcastle West, North Lambton, Rankin Park (part), Sandgate, Shortland, Stockton, Tarro, The Hill, The Junction, Tighes Hill, Wallsend, Warabrook, Waratah, Waratah West, or Wickham, contact us. We would love to supply you with your new shade sails.
Contact us today for a free quote.