Request a Free Quote

Blog Categories
Shade Canopies Tweed Heads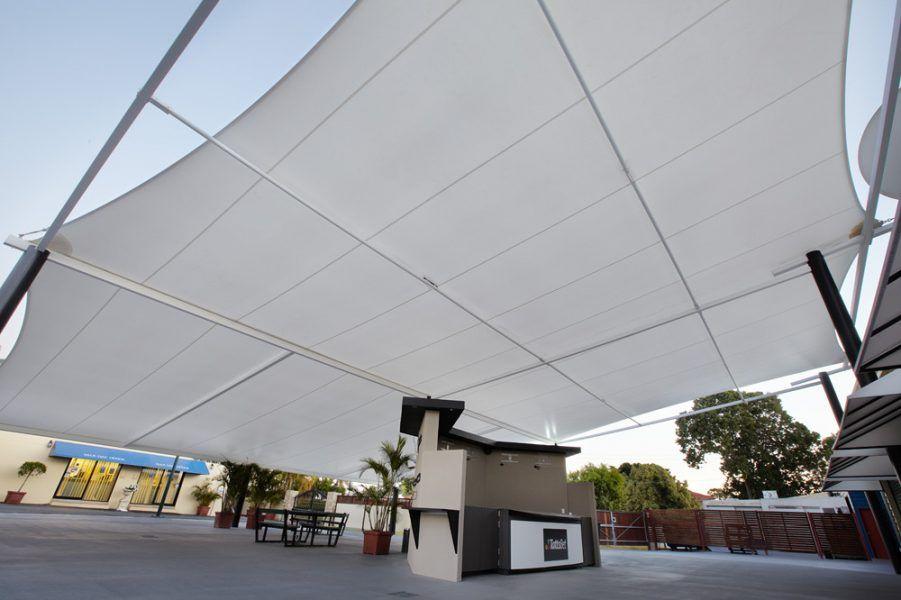 For Shade Canopies Tweed Heads, Global Shade is the team to turn to. As local Northern Rivers shade manufacturers, and with more than two decades of experience under our belts, we can deliver a locally made shade canopy to meet your needs and requirements.
As shade manufacturers, we make the fabric component of shade canopies and do so to the highest standards. All canopies are made here in our Murwillumbah factory and installed by one of our local Tweed Heads agents. The process is professional and straightforward. We do all the hard work; you just have to approve the recommended design!
Global Shade was established in 2004 and continues to deliver high-quality shade canopy covers for Tweed Heads homes and businesses. If you're searching for a shade structure in Tweed Heads and want something more stylish and robust than shade sails, give us a call – we have just the answer in our custom shade canopies.
Residential Shade Canopies for Tweed Heads Homes
Shade sails are great, but they can't compare to the coverage, strength and design options of shade canopies. As such, shade canopies in Tweed Heads have steadily grown in popularity over the years. Homeowners recognise their benefits and their ability to provide sun and rain protection.
Our shade canopies in Tweed Heads are made to the highest standards, using the industry's leading fabrics. They are custom-designed to provide excellent sun or rain protection from either high-quality shade fabrics or waterproof fabrics. They do not conform to any particular style or design; they are tailored to the requirements of the area at hand.
Common Tweed Heads residential shade canopies installations include
Shade canopies over driveways
Shade canopies over outdoor entertaining areas/patios
Shade canopies over pools
Shade canopies over outdoor play equipment and sandpits
Shade canopies over pathways
Together with our local Tweed Heads agent, we can manufacture and install a durable shade canopy that will provide many years of service.
Commercial Shade Canopies for all Applications
Commercial shade canopies in Tweed Heads are the perfect shade or rain solution for large outdoor commercial spaces, especially outdoor hospitality, education, retail, and recreation areas. They provide excellent coverage and protection for swimming pools, playgrounds, parklands, schoolyards, amusement parks, cafes, restaurants, hotels, shopping centre car parks, attracting, retaining, and protecting those beneath them.
Global Shade manufactures high-quality commercial shade canopies from the very best fabrics. We excel under pressure and love a challenge. If you have an unusual space or wish to create an architecturally stunning canopy that becomes a real feature of your establishment, we're the team to call. No project is too big, too complex or too unthinkable for our experienced team. Whether you're after a lotus canopy, a tetra canopy, a hypar canopy, a framed canopy, a pyramid canopy, or a sail canopy, we can tail a solution to your specifications and provide various fabric options.
Common Tweed Heads commercial shade canopies installations include
Shade canopies over alfresco dining areas
Shade canopies over shopping centre car parks
Shade canopies over hotel swimming pools and aquatic centres
Shade canopies over parks
Shade canopies over child care centre playgrounds
Shade canopies over walkways and entrances
Shade canopies over communal outdoor areas
Tweed Heads Service Areas
We service the entire Tweed Heads region. If you live in Tweed Heads, in the suburbs of Banora Point, Bray Park, Byrrill Creek, Cedar Creek (Tweed), Cobaki, Cudgen, Duranbah, Hastings Point, Limpinwood, Pottsville, Stokers Siding, Tumbulgum, Upper Burringbar, Bilambil Heights, Brays Creek, Cabarita Beach, Chillingham, Condong, Cudgera Creek, Eungella, Kielvale, Mount Burrell, Pumpenbil, Tanglewood, Tweed Heads West, Upper Crystal Creek, Bilambil, Burringbar, Carool, Chinderah, Crabbes Creek, Dunbible, Fernvale, Kings Forest, Nobbys Creek, Reserve Creek, Terragon, Tyalgum, Bogangar, Byangum, Casuarina, Clothiers Creek, Crystal Creek, Dungay, Fingal Head, Kingscliff, Piggabeen, Round Mountain, Terranora, or Uki please get in touch with us.
For high-quality custom made shade canopies in Tweed Heads, get in touch with Global Shade, Tweed Heads's number one shade manufacturers. Call our friendly team today on 1800 724 407.