4 things you didn't know about Cantilever Umbrellas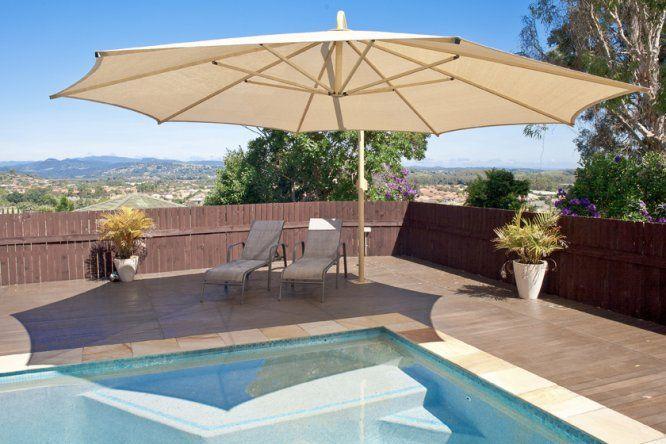 July 19th, 2016 · Published to Outdoor Umbrellas by Steve Lewis
I'm sure you know what cantilever umbrellas are. They are those large umbrellas that are so commonly seen around resort swimming pools. While you may think that these umbrellas are only used in commercial projects, they are also great for home use. In fact, I have one umbrella installed in my backyard entertainment area and we just love it!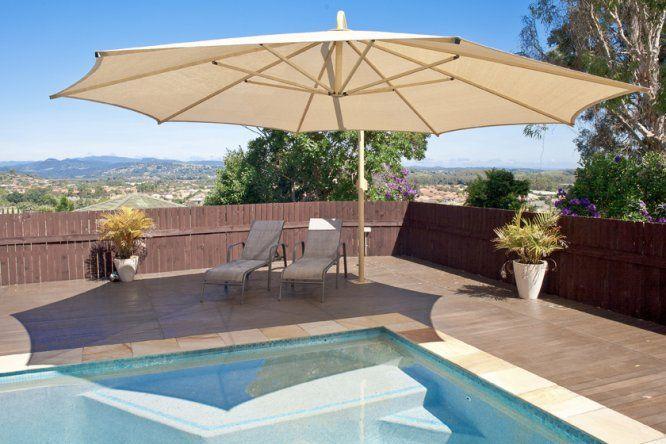 As a supplier of cantilever umbrellas, I thought that this would be a great time to list out some lesser known facts about them. Continue reading this article as I list 4 things that you probably didn't know about cantilever umbrellas. Hopefully, by the end of this article, you'll want to install an umbrella in your backyard as well!
1. They are available in a variety of designs
What I love the most about outdoor cantilever umbrellas is that they are available in a variety of designs, which makes them highly functional. Most cantilever umbrellas include a lever, which allow you to control its angle. Some other cantilever umbrellas also feature a rotating base. These design features allow you to customise the setting of the umbrella completely according to your needs. Cantilever umbrellas can effectively block out the rain or the sun, as you can rotate and tilt the umbrella according to your needs. Some other not-so-common design features of these umbrellas include base wheels, simplified tilt control and crank lift, among others.
At Global Shade, we custom make our cantilever umbrellas to meet your specifications in terms of colour and material. When you buy from us, we will deliver a high quality umbrella in a design that meets your specifications.
2. They are lightweight and can be transported
I'm surprised at just how many people think that outdoor cantilever umbrellas need to be kept fixed in one location. In fact, cantilever umbrellas are incredibly lightweight and they can easily be manoeuvred.
Their wheeled bases and tilting mechanisms allow you to easily transport or change the shade angle of an umbrella, which customers love. Whether you're using a cantilever umbrella in your backyard or patio, you will have absolutely no problems in manoeuvring it.
3. Not all are the same
As with most other products, the quality of a cantilever umbrella completely depends on the material used in the manifesting. However, this can be the difference between a $200 and a $2,000 umbrella. Your choice of material will affect the overall quality and shade protection offered by the umbrella. Quality cantilever umbrellas, such as ours at Global Shade, are made out of synthetic fabrics, which are created to be UV resistant. You can choose from a variety of colours, styles, textures and finishes with synthetic fabrics.
4. They can provide multiple functions
Most Global Shade customers purchase these umbrellas as an affordable pool shade solution to protect children from harsh UV Rays. Indeed, this is the most popular use of cantilever umbrellas – to block out the sun or the rain. However, these umbrellas can offer a range of other functions as well. Cantilever umbrellas can provide ample coverage for outdoor hot tubs and pool deck bars. They can also be used over picnic tables to provide maximum shade from the sun.
Conclusion:
Cantilever umbrellas make for a great shade solution for use in backyards and patio areas. They are available in a variety of designs for you to choose from. Moreover, they are lightweight and can be transported with ease. Cantilever umbrellas are available across different price points and in different levels of quality. These umbrellas can also serve multiple functions as well. If you aren't aware of cantilever umbrellas, you must check them out!
For the finest cantilever umbrellas in Australia, check out our products at Global Shade. As a reputed manufacturer, installer and supplier of shade solutions, our umbrellas are of the highest quality. The fabrics that we use in our umbrellas are top grade and offer UV protection as well. By installing our umbrellas in your backyard or patio, you can enjoy the outdoors come rain or shine!
To make a purchase or to know more about our cantilever umbrellas, feel free to get in touch with us. We'd love to help you in every way that we can!