Cantilever umbrellas – offering the perfect pool shade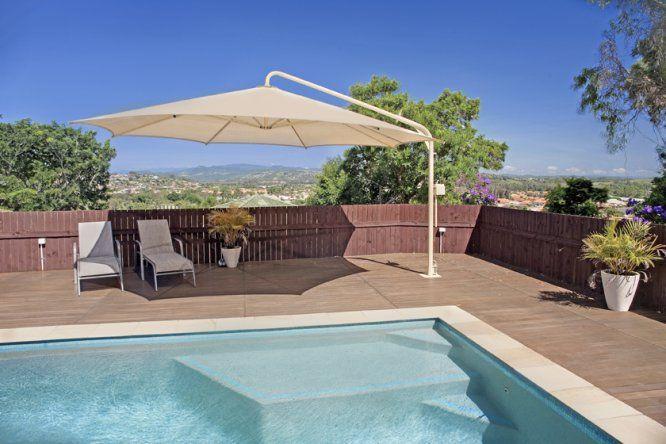 November 17th, 2016 · Published to Outdoor Umbrellas by Steve Lewis
Do you own an outdoor pool or a large backyard that you're proud of? If you do, I'm sure you want to make the space as comfortable as possible. To keep your outdoor space comfortable, you must consider investing in a shade solution. Not only will this help keep the area cool, but it will also offer you protection from the sun, rain and wind.
But which shade solution do you choose? There are a number of options you can go with, but I recommend that you consider cantilever umbrellas.
As a manufacturer of cantilever umbrellas on the Gold Coast, I will list out everything that you need to know about them in this article. Read right through to the end and you'll be able to take a more informed decision when making a purchase.
What is a Cantilever Umbrella?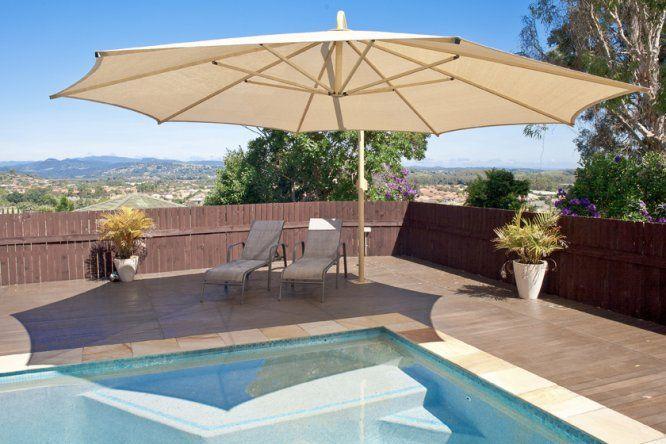 I'm a big fan of cantilever umbrellas. You've probably seen cantilever umbrellas on the Gold Coast being used in outdoor pools in hotels and resorts. Maybe you just didn't know what you're looking at is a cantilever umbrella.
Cantilever umbrellas are a special variant of outdoor umbrellas. However, as opposed to a normal outdoor umbrella, these umbrellas are not supported by a beam running through the middle. Rather, cantilever umbrellas make use of a freestanding pole and are suspended only from the top.
Functionally, cantilever umbrellas do the same thing that outdoor umbrellas do – they provide shade. But there are many benefits of cantilever umbrellas which simple outdoor umbrellas do not provide. First of all, cantilever umbrellas are engineered to be highly stable. A section of the freestanding pole lies at a horizontal angle to provide added stability. Many modern cantilever umbrellas also feature additional attachments which make them much sturdier than standard umbrellas.
Secondly, cantilever umbrellas are usually much larger than simple outdoor umbrellas. This means that they are large enough to provide shade for an outdoor pool or a backyard entertainment area. Cantilever umbrellas can also be tilted to adjust the angle of shade. As the sun moves, you can tilt the umbrella and adjust the shade accordingly. This is just not possible with standard outdoor umbrellas.
How much do they cost?
I've met many people who think that cantilever umbrellas on the Gold Coast are an upscale product, fit only for commercial uses. However, this is not true. Cantilever umbrellas are available in a range of prices, depending on the quality. While high-end cantilever umbrellas can cost you upwards of $1000, you can expect to find good quality umbrellas between $100-$200.
Here, at Global Shade, we offer high quality cantilever umbrellas which are manufactured using top grade materials. The best part about our umbrellas is that they are reasonably priced. Should you choose to buy from us, you can rest assured knowing that we'll provide you a great product at an affordable price.
Size & design options
Cantilever umbrellas on the Gold Coast are available in a range of size and design options for you to choose from. Typically, these umbrellas range from 9-13 feet in diameter, making them large enough to be used as a pool shade.
Global Shade cantilever umbrellas are made of top quality shade fabrics and feature a steel/aluminium frame. You can completely customise the colour of our umbrellas and you can also get lighting and heating fixtures installed. Global Shade umbrellas are lightweight, durable and are extremely easy to maintain. Our umbrellas are a great space saving shade solution that will protect you from the sun's UVR, rain and wind.
Conclusion:
For the perfect pool shade, you should consider investing in cantilever umbrellas. Cantilever umbrellas are a special variant of outdoor umbrellas which use a freestanding pole for support. Unlike standard umbrellas, cantilever umbrellas can be tilted to adjust the shade. High quality cantilever umbrellas will only cost you between $100-$200 and they are available in a range of size and design options.
For the best quality cantilever umbrellas on the Gold Coast, give us a call on 1800 724 407. We'll be more than happy to discuss your requirements.