Get summer ready with outdoor umbrellas
December 27th, 2016 · Published to Outdoor Umbrellas by Steve Lewis
With summer now in full swing, it's only natural that we tend to send more time outdoors. However, it's very important that we remember to stay well protected from the sun's harsh UV radiation.
The Cancer Council's National Sun Protection Survey has found that over 10 million Australians don't wear a hat when out in the sun on summer weekends. If you're one of these people, then I urge you to consider other sun protection methods.
We, as a nation have the second highest melanoma rates in the world, and it only continues to climb. Although I cannot offer 24/7 shade protection, I can offer you shade protection when you're at home.
Continue reading this article as I explain how outdoor umbrellas can help you enjoy the summers outdoors. I'll also touch up on what you need you need to consider when purchasing outdoor umbrellas. So, listen up!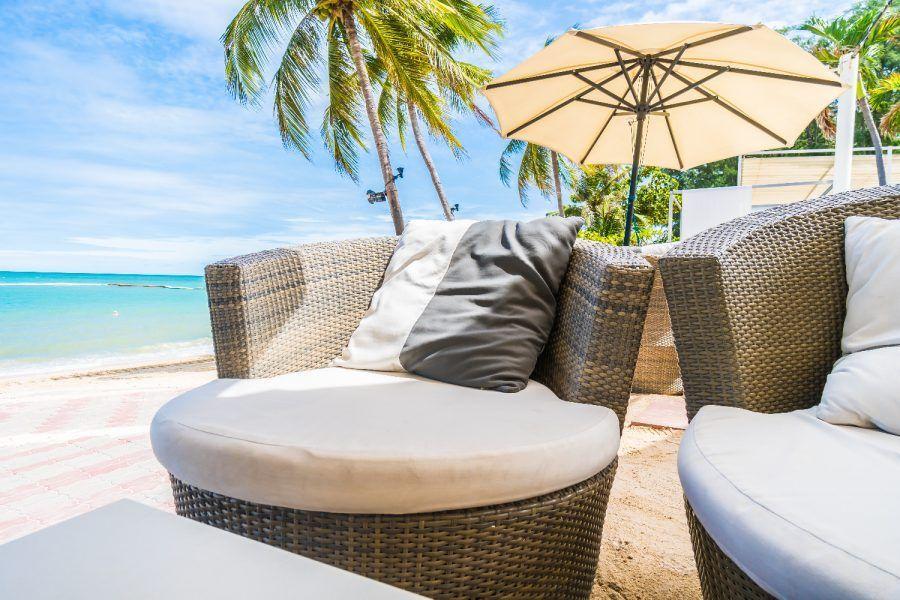 Enjoy summers outdoors with outdoor umbrellas
We love spending time outdoors, it's in our blood. However, the harsh Australian summer can be very dangerous. The harmful UV rays of the sun are the primary cause of melanoma skin cancer. While you can certainly battle the sun's rays with a high SPF sunscreen, outdoor umbrellas are another great option.
Outdoor umbrellas are a popular shade solution in Australian homes, cafes and restaurants because they are so flexible and affordable.
Available in a range of sizes, outdoor umbrellas can be attached to an outdoor table or used as a standalone unit. Moreover, they can be rotated and adjusted according to the sun's movement to provide fantastic protection against the blistering summer sun.
Outdoor umbrellas made out of high quality shade fabrics, such as those we offer at Global Shade can offer UVR protection of up to 99%. Therefore, by installing an outdoor umbrella to your home or business premises, you'll create a cool environment for friends, family or customers to enjoy even on the hottest of days.
What to look for when purchasing outdoor umbrellas
Before you go ahead and purchase an outdoor umbrella, there are few things you should consider. This first and foremost thing to check is if the umbrella is durable. Given that the umbrella will be left outdoors all the time, it will be subject to rain, sun and the wind. Your outdoor umbrella must be strong enough to withstand all these natural elements.
It is also important to consider the size of the outdoor umbrella you purchase. Ideally, you'll need an umbrella that is large enough to offer adequate shade underneath. Always go with umbrellas which can be adjusted and rotated as per the sun's movement.
Finally, and most importantly, you should consider the price of the umbrella you're planning to buy. Outdoor umbrellas are available in a range of prices, starting from as low as $200 and going up to $2000 plus. This difference in price is largely based on the quality.
I recommend you to get a high-quality umbrella and not skimp out by going for a cheap one. High-quality umbrellas, like our range, will offer you protection from the sun's UV rays and will also last you several years to come.
Choose Global Shade for the highest quality outdoor umbrellas
At Global Shade, we offer a range of outdoor umbrellas in a variety of shapes, sizes and colour options. Moreover, you can even choose to customise our umbrellas to reflect your personal preferences or branding requirements. Our umbrellas feature high tensile strength and are incredibly durable.
We offer a range of outdoor umbrellas including Portable Range, Horizon Range, Sunset Range, Typhoon Range, Vista Range, Panorama Range and Hypar Range. Whatever you may be looking for, we have an umbrella that will suit your requirements.
Conclusion:
To enjoy the summer outdoors, you need to ensure that you're well protected from the sun's UV rays. One way of doing this is by investing in outdoor umbrellas. High quality outdoor umbrellas, such as those we offer at Global Shade offer up to 99% UVR protection. When you're looking to purchase an outdoor umbrella, check to see that the umbrella is durable, that it offers adequate coverage and consider your budget.
For affordable outdoor umbrellas that offer excellent UVR protection, consider our outdoor umbrellas at Global Shade. Simply get in touch with us by dropping an email at info@globalshade.com.au and we'll offer you all the information you need about our high-quality umbrellas. Don't delay – get in touch with us today!