Umbrellas: How to Choose the Right One for your Requirements
January 30th, 2014 · Published to Outdoor Umbrellas by nicole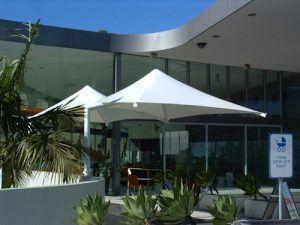 Australia is one of the best countries in the world when talking about weather. Compared to other countries, we get much more sun which allows us to enjoy a long list of outdoor activities. However, when the sun gets too hot particularly during unforgiving summer months, even those who worship the sun begin to beg for shade. Instead of spending the lazy afternoon indoors, considering purchasing a umbrella to help you create a more comfortable outdoor space regardless of the weather.
Right now, there are several umbrellas available in the market and choosing the right one can get a bit confusing. If this is the first time you're checking out this shade solution, it is important to know exactly what you need to do in order to find one that fits your budget, needs and preference.
Choosing the right umbrella for your requirements
Know the type of umbrella that meets your requirements. Most first-time buyers won't realise all umbrellas are different. These shade solutions are available in different shapes, sizes, and design. Also, their quality greatly varies depending on the materials used and the intended purpose. For residential applications, there are umbrellas particularly designed for patios. These pop-up style umbrellas typically fit a hole in the center of a patio table, however if you're looking for a more robust solution, cantilever umbrellas are perfect. Cantilever umbrellas are something we at Global Shade know a lot about as they are one of our most popular shade solutions. These Commercial Outdoor Umbrellas are very higher in quality and can be used for both residential and business purposes. Besides the quality, the other major difference between a cantilever umbrella and a standard umbrella is the support pole. Where standard umbrellas have a center pole, cantilever umbrellas have their support to the side allowing ample uninterrupted space below the shaded area. View our cantilever umbrella page for more information about this great shade solution.
Choose the frames. You have multiple choices when it comes to frames that you're going to use for your umbrella but the main materials used for these shade solutions are wood, fiberglass, and aluminum. Each offers different sets of pros and cons and the best one really comes down to the intended purpose and personal preference.
Pick the right size. The size of your umbrella will ultimately determine how much shade you're going to have. It is important that your umbrella is big enough to cover the area otherwise, people underneath will not get enough protection against the sun. Also, you don't want to get too large umbrella for a very small space as it may easily fall over. Ideally, you should get the exact measurement of the space that you want to be covered and add an extra 2 feet per side. This means that if you have a 4-foot table, an umbrella that is 8 feet in diameter would be perfect.
Anchor weight. Standard umbrellas generally need a base so they will not be blown away or fall over easily. While some umbrellas come with a base, there are instances where buyers need to purchase them separately depending on their distinct requirements. For instance, if you're going to use the umbrella in an area that receives a huge amount of wind, you will need to buy a heavier and more stable base to hold the umbrella in place. Ideally, you should get about 50 lbs. of counterweight for umbrella with a diameter of less than nine feet.
An umbrella is a great, cost-effective shade solution for residential applications particularly during summer months. When choosing, you have to consider not just the colour but also the amount of shade it can give you, the materials used, and its durability so it will last through all types of weather.
When it comes to needing more than just a standard umbrella, when you require a heavy duty permanent solution, Global Shade is the answer.
Global Shade provides the best cantilever umbrellas across Australia including Tweed Coast, Gold Coast, Brisbane, Sydney, Melbourne, Hobart, Adelaide and Perth. Committed to providing only the best Commercial Outdoor Umbrellas on the market, our products are not only durable but attractive as well. For questions, feel free to email us at info@globalshade.com.au or call 02 6670 8300. We'd love to hear from you.
Related Topics