4 Common Uses of Standard Triangle Shade Sails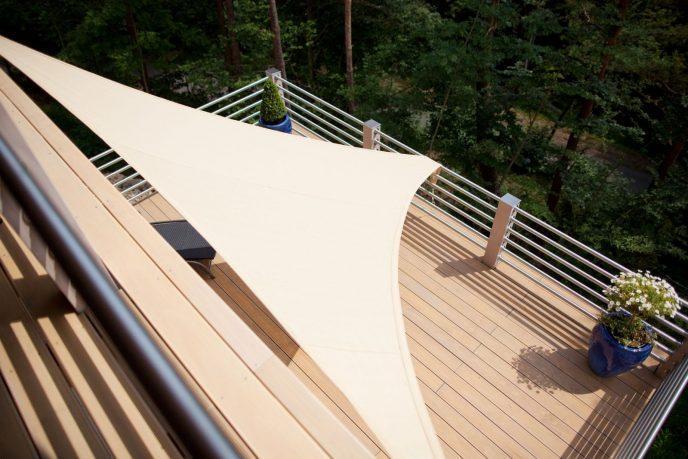 November 27th, 2019 · Published to Shade Sails by Steve Lewis
When you picture a shade sail, the vision in your head is that of a triangle shade sail, am I right? The cookie-cutter shade sail is just that, a three-sided triangle shade sail, which is usually attached to stainless steel posts or existing structures.
Triangle shade sails are by far the most common shade sail design. They are easy to manufacture, easy to buy, and straightforward to install – installation is straightforward that you can even do it yourself.
Due to the simplicity of the structure, triangle shade sails are highly versatile and can be used to create shade for several applications. Today, I look at some of the most common uses of triangle shade sails by Global Shade customers. Maybe you will get a little inspiration and decided to order one or two for your use?
Backyard Patio or Deck
The #1 use for triangle shade sails is to provide shade over a patio or deck. Australians love to entertain, and creating a functional outdoor entertainment area is one of the best home improvements you can make.
A single triangle shade sail can be used to provide shade to a small area, or multiple sails can be arranged to shade larger areas.
Pool or Poolside Area
Around thirteen per cent of Australian homes are said to have a swimming pool, and with Australia having the highest melanoma statistics in the world, parents are more than aware of the importance of sun protection. Thus, triangle shade sails are the ideal solution. Offering up to 99% UV-R protection, triangle shade sails are put to very good use over a pool, which is why this is the second most common use for them.
A single large triangle shade sail is often sufficient in providing shade over a pool, but multiple sails can also be used to cover a larger area.
Residential Carport
Building a permanent carport to protect a car can cost in the tens of thousands, but a triangle shade sail costs just a fraction of the price. As such, triangle shade sails are a popular and very cost-effective choice for providing shade to a car. Shade sails protect vehicles from hail and also help preserve the paint against the heat of the sun.
In such an application, it is best to use multiple overlapping shade sails to cover the car completely.
Playgrounds
Nothing is more precious than our children, which is why their safety is paramount. In terms of sun safety, triangle shade sails provide very high protection, which is why they are so commonly installed over playgrounds. Schools, kindergartens and council parks all count on triangle shade sails to protect chindren from the suns UV-Rays.
Multiple triangle shade sails are commonly used in such an application to offer more protection over a vaster area.
Conclusion
It's no surprise that triangle shade sails are the most common and most popular type of shade sail still to this day. Their simplicity and affordability make them an incredibly attractive shade solution. So much so, that they are used for a variety of applications across a range of industries.
Four of the most common used for triangle shade sails are to provide shade over a backyard patio or deck, a pool or poolside area, a carport, and playgrounds.
Global Shade offers DIY triangle shade sails and custom made triangle shade sail. While our DIY range come in three fixed sizes (3x5m, 4.4x6m and 5.8x8m), our custom shade sails can be manufactured to any size. If you would like to enquire about our shade sails, contact us via email or phone 1800 724 407 tollfree.