Affordable Shade Sail Replacements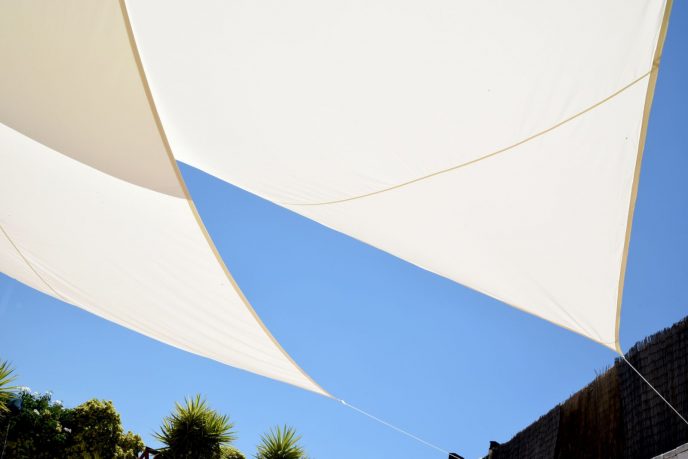 May 20th, 2020 · Published to Shade Sails by Steve Lewis
It goes without say, shade sails are a popular shade solution. They can be found in every street, at shopping centres, schools, kindergartens, hospitality establishments and various other establishments. Their popularity comes from their affordability. However, there is a downside; they are not resistant to cyclonic conditions, and, if they are not made from quality fabrics, they may not even wear severe storms or high winds.
If your shade sails are looking a little worse for wear, or have been torn to shreds in a storm, then shade sail replacements are in order. The good news is, you probably don't have to start over. If your posts and attachments were not damaged, then it is as simple as ordering shade sail replacements… and best of all, you don't have to go through a shade sail retailer to purchase these.
Shade Sail Replacements direct from the manufacture
Global Shade isn't a shade sail retailer. We're shade sail manufactures, and while we supply shade sail retailers with shade sails, we also supply direct to the public. In shade sail replacement cases, dealing directly with us is the only way to go! There is no need to call the company who installed your original shade sails, as they will only contact a shade sail manufacture and then add a markup. The posts and anchors are already in place, so it's just the shade sail fabric that needs to be replaced, and that is precisely what we do!
Shade Sail Replacements of the highest quality
Our shade sail replacements, like all our shade sails, are manufactured using the Industry's best shade fabrics. We rely on our reputation, and we can't build on this if we produce subpar sails! Hence, at Global Shade, we give customers the option of choose between Rainbow Z16, Xtreme 32, Protex Parasol, Commercial 95, Allnet Extrablock, and Monotec 370 series. These are the leading shade cloth brands in the world.
We can also provide waterproof shade sail replacements, whereby we count on PVC fabrics such as Ferrari 502, Polyplan 680, and Valmex 580S. Please note, however, if you are upgrading from shade cloth to waterproof shade sails, professional installation is advised.
Shade Sail Replacements made to order
As manufactures, all shade sail replacements are made to order. Seldom, if ever, are any two shade sails ever the same. All homes are different, as too are our customers' requirements. As such, we request post to post measurements to manufacture custom-made shade sails to perfectly fit your existing installation.
We also guarantee a fast turn-around time on all shade sail replacements. Usually, the time of order to the time of delivery is around 10 to 12 working days. We understand the inconvenience caused by damaged shade sails, and we aim to rectify this as soon as possible.
Conclusion
Chances are, at least one house in your street has shade sails installed; whether it be over a carport, pool, or outdoor entertainment area. The fact is, shade sails are one of the most widely used shade solutions in the world. However, they are not resistant to all weather conditions.
Shade sails may not stand up to cyclonic conditions, and subpar shade cloth materials may even be damaged in server storms. When such damage occurs, shade sail replacements are required.
For affordable shade sail replacements, don't contact a shade sail retailer, contact a shade sail manufacture. Manufacture like us, Global Shade, can custom-make shade sail replacements utilising the Industry's highest-quality shade fabrics to offer superior longevity.
Call 1800 724 407 today to request a quote for your shade sail replacements. We look forward to hearing from you!