Are Shade Sails a Good Idea? You Decide!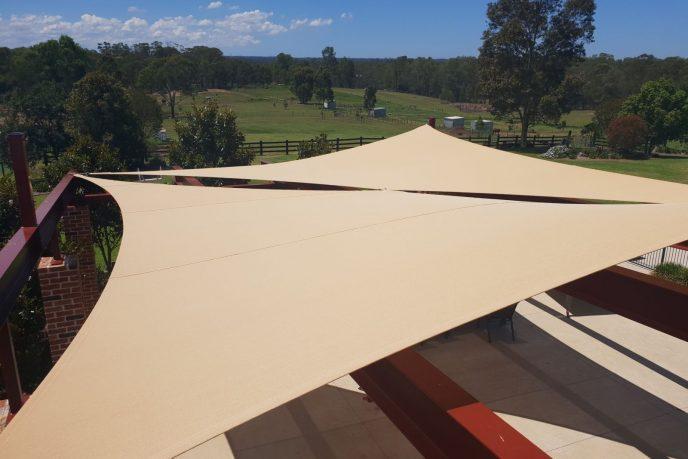 July 8th, 2020 · Published to Shade Sails by Steve Lewis
If you have spent any time at all researching shade options, then undoubtedly, you will see shade sails mentioned more than once. If you're not familiar with shade sails, you would have seen them before; they can come in a range of shapes, but are often triangular, and are made from shade cloth, amongst other materials. They are commonly applied over a driveway or backyard table setting and are also very economical – which is why they are such a popular shade option.
They may be popular, but their popularity isn't always enough to give consumers the confidence needed to order shade sails as their shade solution. You need only search for 'shade sail' on Google, and you will see that one of the most asked questions relating to them is "are shade sails a good idea"?
Given that Global Shade is one of Australia's leading shade sail manufactures, of course, I am going to answer that with an unequivocal YES! However, I understand that my bias plays a role. Therefore, in order to give an unbiased opinion, I need to be frank in outlining the pros and cons of shade sails. This way, you can make up your own mind as to whether shade sails are a good idea or not.
So, let's get started by looking at the pros of shade sails.
Top Shade Sail Pros
Super Affordable
As mentioned above, shade sails are super affordable. In fact, next to a Market Umbrella, they are probably the most affordable shade option available. You only have to look at our DIY shade sails to see you get a top-quality shade said from as little as $300.00. Even if you opt for a custom shade sail, you'll find they are still far more economical than other shade options such as a pergola or awning.
Highly Versatile
Another great benefit of shade sails is that they are very versatile. They can be used to cover anything providing adequate attachment points are available. As I mentioned earlier, shade sails are commonly found over driveways to offer an affordable carport solution, but they are also popular over pools, outdoor entertainment areas, and walkways. And, they are not limited to residential use. Global Shade has manufactured just as many shade sails for commercial use, including installations at cafes, bars and restaurants, theme parks, sporting complexes, and shopping centres, to name a few.
Easy to Install
Shade sails, DIY shade sails, in particular, are incredibly easy to install. They require no professional installation and take mere minutes to erect. Custom shade sails are also easy to install, but a professional installer is recommended to ensure the sails offer longevity.
Top Shade Sail Cons
Not Waterproof by Default
Shade sails are fantastic as providing shade, but rain protection; not so much. Standard shade sails are not waterproof, and therefore, are not a good idea if you're looking of full-weather protection. Nevertheless, you can get waterproof shade sails! They are made from different materials, which have waterproof qualities. They are, however, much more expensive.
Look "Cheaper" Than Other Solutions
Shade sails may give off an "economy-look" because they are an economical shade solution. If you're looking to create a grand looking shade cover, then you may be disappointed by the end result. Don't get me wrong, shade sails are attractive, but in terms of contemporary style, they just won't compete with an architecturally designed structure.
Not Always Storm-Proof
Because shade sails are made from shade cloth or another material, they probably won't withstand torrential storms with high wind speed. They are prone to tear away from the anchors and need to be replaced. If you live in an area with high wind speeds, then shade sails may not be the best option.
Conclusion
So, are shade sails a good idea? Yes, of course! They are super affordable, very versatile in application and straightforward to install. For these reasons, shade sails are one of the most common shade options in Australia. However, there are times when they may not be the best option, particularly if you are looking for a waterproof solution, are looking for a grand structural design, or live in an area prone to high winds and storms.
If you feel that shade sails are not only a good idea, but the perfect idea for your requirements, then pick up the phone and give me, Steve, a call om 1800 724 407. I can put you in touch with a local Global Shade agent for a free measure and quote.