Considerations for Buying a Pool Shade Sail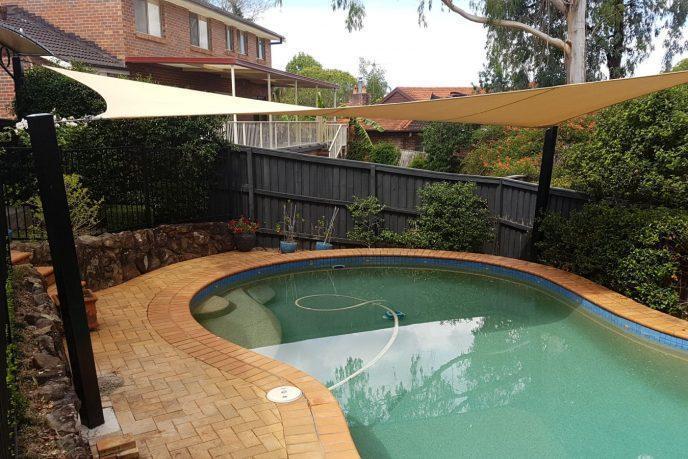 July 3rd, 2019 · Published to Domestic, Shade Sails by Steve Lewis
Don't think, with summer behind us for another year you can now enjoy your pool without having to worry about the glaring hot sun. The truth is, regardless of the season, the sun is still hot and you are still at risk of getting burnt.
Protecting your family from the sun all year round is made easy with the addition of a pool shade sail. I guess this is why we're busy making pool shade sails across Australia all year round!
If you're looking to reap in the benefits of a pool shade sail, then take note of the following considerations – they will help to ensure you get the best-suited solution for your needs.
One sail or multiple sails?
Your first consideration should be on the design. This will depend on how much of the pool you want to shade and the overall design you want to achieve. If you're looking to shade the entire pool, then one large rectangular shade sail is a preferred option. If you're looking to only partially shade your pool, or are looking for more of an architectural-looking design, then you can opt for two or more triangular shade sails.
Are there existing anchor points?
The location and number of required anchor points to support the shade sail/s will ultimately depend on the design you choose. If you are existing structures such as an exterior wall of your home or the roof, then these can be used as anchor points. However, chances are that you will need additional anchor points, and therefore, posts to be installed. Your shade sail supplier/installer will be able to take care of this element for you.
Sun protection or rain protection?
Knowing the shape you need, you can now move on to thinking about whether you want sun protection or rain protection.
Shade sails, in case you didn't know, are available in waterproof materials to offer 100% protection against rain, hail and UVRs. If you're choosing to partly cover your pool and your outdoor dining area with the same shade sail/s, then a waterproof material may be a better choice.
If you're simply looking to provide UVR protection, then a standard shade sail fabric will suffice.
What colour shade cloth?
Lastly, consider the colour of the shade cloth. Now, this is more important for those choosing standard shade cloth over a waterproof fabric because it goes way beyond the aesthetics of how the shade sail will integrate with your home.
The colour of shade cloth goes hand in hand with the UVR block that the cloth offers. Generally speaking, the darker the colour, the higher the UVR block. Therefore, black or charcoal is a very popular choice for pools as it offers the highest protection (up to 99% depending on your chosen fabric).
Because we are so susceptible to the sun when enjoying time in the pool, you will want to provide as much protection as possible. Therefore, choose a quality fabric with the highest UVR block rating – 95% or 99% is recommended. Fabrics to look for are those that we use in the manufacturing of our pool shade sails, which you can view here.
Conclusion
Pool shade sails are very beneficial in providing much-needed shade and protection against the sun. However, there are things to consider when buying a pool shade sail to ensure you get a quality sail that offers premium UV Protection. These considerations are to install one or multiple shade sails if you have existing anchor points or need posts installed if you want protection against the sun or the sun, rain and hail, and which colour is best and why?
Avoid confusion when buying a pool shade sail by buying from one of Australia's most reputable manufacturers, Global Shade. We only use the best shade cloth fabrics in the market to offer the highest protection. Click here to find out more about our shade sails.