Enjoy Summer Even More With A DIY Shade Sail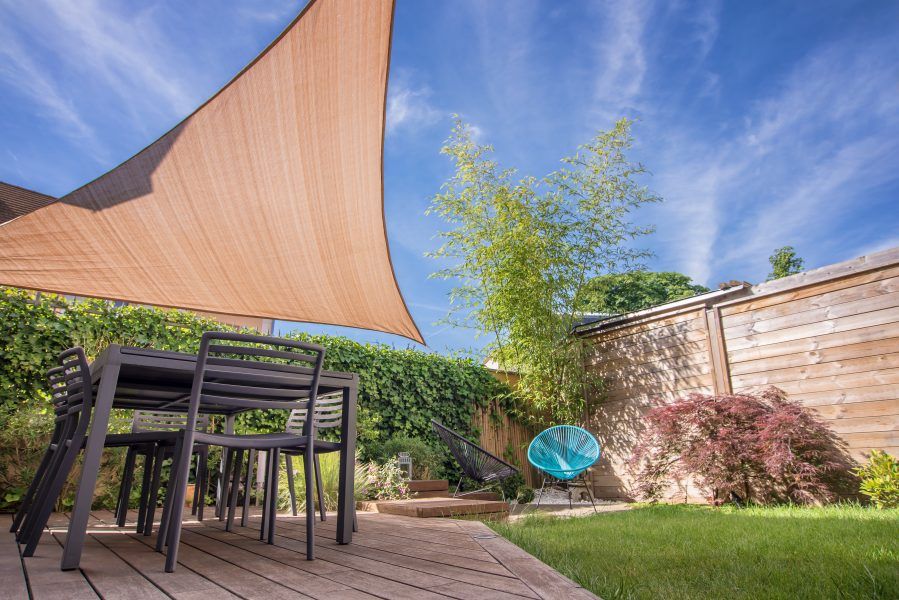 December 11th, 2019 · Published to Shade Sails by Steve Lewis
Ah, summer; it's the season that we Aussies can't wait for, but once it's here we all complain about how hot it is! I know I'm not the only one guilty of this.
Summer in Australia is great, but for some areas, temperatures can reach into the forties, and humidity can climb to more than 70%. But, extreme heat shouldn't foil your summer plans, and you shouldn't have to sit around in sweltering heat – not when you can buy a DIY shade sail for your home.
At Global Shade, along with custom shade sails, we specialise in manufacturing DIY shade sails and have a comprehensive range to fit most spaces. The great thing about DIY shade sails is that they are affordable, easy to install, and if you're renting, you can take them with you when you leave.
Continue reading this article as I explain how you can enjoy summer even more by investing in a DIY shade sail from our range.
Enjoy Entertaining Friends
What's summer without a BBQ or two. We are renown for our love of outdoor entertaining and with an affordable DIY shade sail installed, you and your guests can spend hours outside without being overwhelmed by the heat. Moreover, your food won't spoil, and your drinks will stay colder, longer.
For an outdoor entertainment area, our square and rectangle DIY shade sails are ideal. They will provide adequate shade for areas as big as 5.8 x 8 m.
Spend Summer in the Pool
Throwing a BBQ may be an adults' favourite summer pastime, but for kids, it's definitely swimming in the backyard pool (for those lucky enough to have one!).
However, time in the sun equals sunburn, which is why the sun is a constant concern for parents. It takes a matter of minutes for the sun's UV Rays to burn the skin, and the reflection from the surface of a pool only worsens this.
Parents can eradicate concern and keep their children better protected with the simple installation of a DIY shade sail over the pool. And because Global Shade's DIY shade sail range is made from Rainbow Z16, they offer up to 99% UVR protection and 97% shade.
If you'd like to make your pool a safer spot for summer fun, then consider any of our larger DIY shade sails. Square shade sails are available up to 5.8 x 5.8m in size, rectangle shade sails are available up to 5.8 x 8m in size, and triangle shade sails are available up to 6.8 x 6.8 x 6.8m in size.
Keep the interiors cooler
DIY shade sails are not only great for shading outdoor areas but indoor areas also. When installing over a doorway or window, the immediate interior area will be dramatically cooler. This means you can reduce your air conditioning bills and increase your buy more sausages for your summer BBQs!
Conclusion
Having a DIY shade sail or multiple shade sails is one of the best home improvements you can make over summer. Not only will you be able to better entertaining friends, but your children will also be able to utilise the pool more. Moreover, if installed over an opening, it can keep the immediate interior area of your home cooler as well.
If you'd like to enjoy summer more this year, then get in touch with me, Steve Lewis, owner of Global Shade. We have just the shade sail from you in our DIY shade sail range, and best of all, they are all super affordable and very competitive.
Visit our DIY shade sail page for more information on our range. We supply across Australia and can deliver any shade sail within 10-12 working days.