Get Summer-Ready with a Shade Sail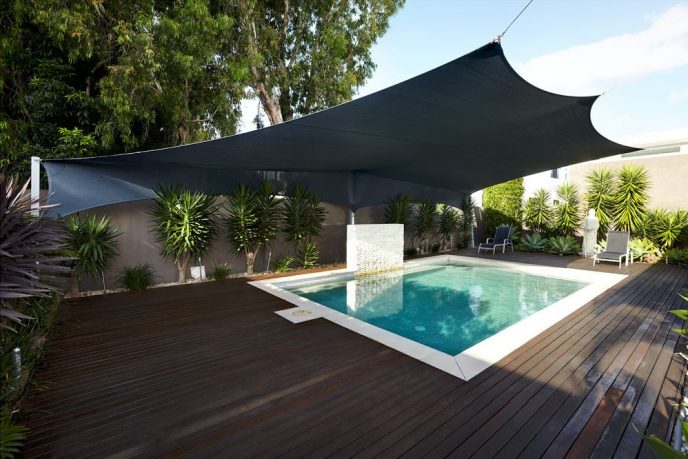 October 14th, 2020 · Published to Shade Sails by Steve Lewis
There hasn't been much to get excited about in 2020. It's a year we would all rather just put behind us. COVID has kept much of the world cooped up indoors for much of the year. Some are in isolation; many are working from home; others are just being cautious.
However, with temperatures increasing and a new year just around the corner, we actually have something to look forward to; summer. And, thankfully, statistics show that being outside is actually better for us in terms of being COVID safe than staying indoors.
If you're looking forward to spending time outdoors this summer, well now's the time to start thinking about shade. With a shade sail installed, you can enjoy summer to the fullest, without getting too hot and without fear of getting sunburnt.
A shade sail can be used in many ways around a home to help you get the most out of summers. Continue reading to discover how you can take advantage of a shade sail this summer.
Outdoor Entertaining
By far, the best use of a shade sail in summer will come from an installation over an outdoor entertainment area. You need only a table setting, BBQ, some cold ones and a shade sail and you are set for a memorable afternoon with friends or family.
A shade sail is very easy to install for such an application. You can get traditional triangle shade sail and anchor two points to your roof/gutter and one to an exterior point such as a fence or post, or for maximum shade, opt for a square or rectangle shade sail.
Global Shade has a shade sail perfect for your summer entertaining needs. We have DIY shade sails, which are a very cost-effective solution, or, we can custom manufacture a shade sail to your specifications; size, shade cloth fabric and colour. Either way, you will have a quality shade sail what will not only keep temperatures cool but will prevent you from being burnt.
Swimming Pool Fun
Having fun in the pool is synonymous with summer in Australia; they go hand in hand. For those lucky enough to have a pool, no doubt you will be getting good use out of it this summer. The only thing that could improve this setting is a shade sail.
While you don't have to worry about getting too hot in the pool, you do have to worry about getting burnt. With a shade sail, this isn't a worry any more. A shade sail from Global Shade can block as much as 99% of the sun's harmful UV Rays, allowing you to enjoy the pool without fear of getting burnt.
We can supply a shade sail for your pool to meet your needs and budget. Choose an affordable DIY shade sail to cover an area of the pool, or contact us about a custom shade sail to span the entire pool.
Enjoy summer to the fullest with a Global Shade shade sail.
Conclusion
This year has undoubtedly been the worst of our generation. We have learnt a new way of living, which has involved spending more time than ever at home. But, with summer upon us, no doubt we will be looking to get outdoors and make the most of it. A shade sail can help in this respect.
Enjoy outdoor entertaining and swimming in the pool this summer without having to worry about scorching temperatures or being sunburnt with an affordable DIY shade sail or a custom shade sail from Global Shade.
Now's the perfect time to get summer-ready! Place your shade sail order with Global Shade today. Call 1800 724 407 to discuss your options.