Shade Sails & Structures for Commercial Pools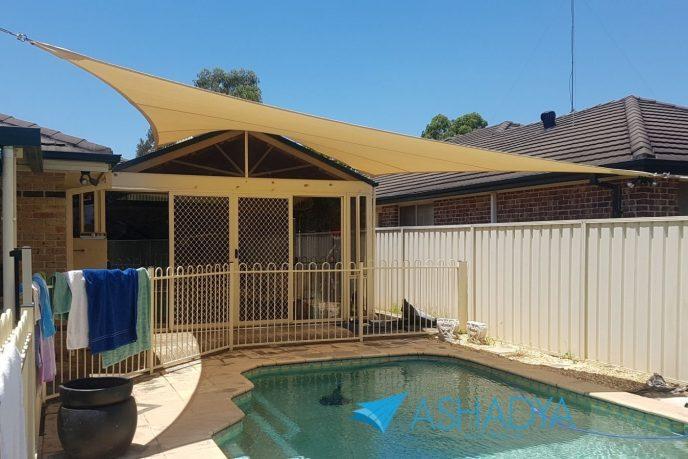 July 7th, 2021 · Published to Applications, Shade Sails by Steve Lewis
Swimming pools are one of life's greatest luxuries; they provide endless fun, fitness, and relaxation and are integral in learning to swim. However, more often than not, swimming pools are outdoors and unprotected from the elements. It only takes 15 minutes in the sun to get sunburned, and with the risk of being diagnosed with melanoma by the age of 60 increasing, we need to do all we can to offer guests and customers a safe, protected environment.
Investing in a swimming pool shade sail or shade structure is the best defence against the suns UV-Rays, next to having an indoor pool. Quality swimming pool shade sails and shade structures, such as those manufactured by Global Shade, can offer as much as 99% UV protection to shelter your customers, students, and guests on the hottest of days.
Whether you're after a commercial pool shade solution for a swim school, aquatics centre, resort pool, or other commercial pool, whether you're in Brisbane, Gold Coast, Melbourne, Newcastle, Sydney, Sunshine Coast, Tweed Heads, or the Central Coast; we can help.
Custom Shade Sails and Shade Structures For Commercial Pools
Global Shade has been in business since 2004 and has steadily grown to be recognised as one of the Country's best shade manufacturers. We specialise in creating the highest quality shade solutions for all applications, including swimming pools, and offer a range of custom solutions to meet all needs.
We can manufacture swimming pool shade sails and shade structures to any size and of any shape. We have worked with numerous aquatic centres, resorts, and schools across the nation, providing quality solutions to suit various needs and budgets.
Shade Cloth and Waterproof Commercial Pool Shades
Protecting against the sun's harmful UV-Rays is the most critical factor when purchasing swimming pool shade sails and shade structures, which is why we only use the industry's best shade cloth fabrics. We also offer waterproof materials to provide all-weather protection.
Our shade cloth fabrics include the likes of Rainbow Z16, Xtreme 32, Polyfab Parasol, Commercial 95, Alnet Extrablock, and Monotec 370 series, which offer excellent UV-R protection and longevity. Our waterproof fabric options include Ferrari 502, Polyplan 680, and Valmex 580S.
Whether you're after pool shade sail or shade structure to provide sun protection or all-weather protection, we can create the perfect solution for your needs.
The Global Shade Process
With Global Shade, the process of getting a custom shade sail or custom shade structure, such as a canopy or tension membrane, installed over a commercial pool is quick and easy.
Start by contacting Global Shade with your pathway shade sail/shade structure requirements. We will connect you with one of our local installers who will visit your establishment and review the area. They can discuss the design options and recommend whether shade sails or another shade structure is best suited to cover the area.
Our local installers will take measurements of the pool area you wish to cover and provide a no-obligation quote outlining all costs. If you accept the quote, the design of the fabric component is sent to Global Shade to be manufactured, which is usually a 10-12 day turnaround.
The installers then construct and install the shade sails/shade structure to complete the process.
Conclusion
Keep your customers, students, or guests cool and protected when enjoying your swimming pool facility by investing in a quality pool shade sail or shade structure custom manufactured by Global Shade.
Shade sails or shade structures are the perfect solutions over a commercial swimming pool. Their flexible nature means they can be custom designed to span across any size and provide as high as 99% protection against UV-Rays and 100% protection against rain.
Global Shade makes getting shade sails and shade structures for commercial pools quick and easy. For a free measure and quote, contact us online or click the button below.