Shade Sails & Structures for Outdoor Areas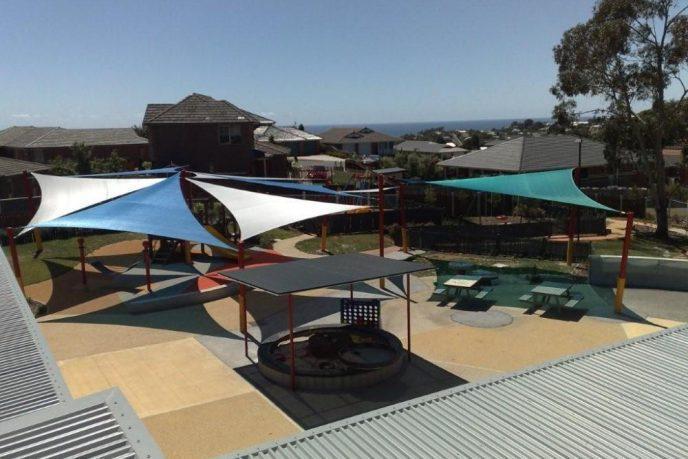 Spending time outdoors, soaking up some much-needed D3, is good for you until you start getting sunburnt. Whether you're a parent looking to protect your children, a business owner looking to provide shade to staff and customers, an educational facility looking to provide shade to children and students in your care, or a homeowner looking to add shade to an outdoor area of your home, the simple and affordable solution lies in shade sails and shade structures.
Thankfully, shade sails and shade structures for outdoor areas are something we here at Global Shade excel in.
If you're a parent, business owner or a representative of an educational facility looking to shade an outdoor area in Brisbane, Gold Coast, Melbourne, Newcastle, Sydney, Sunshine Coast, Tweed Heads, or the Central Coast; we can help!
Custom Shade Sails and Shade Structures For Outdoor Areas
Global Shade specialises in custom shade sails and shade structures for any and all outdoor areas and applications. We have 17-years' experience in the Shade Industry and manufacture top-quality shade sails and shade structures of any shape and size.
We can manufacture the fabric component of any type of outdoor covering, including single shade sails, multiple shade sails, lotus canopies, tetra canopies, hypar canopies, framed canopies, or an architecturally designed structure. No job is too big, too small, or too complex for our dedicated and skilled team.
Shade Cloth and Waterproof Shade Covers for Outdoor Areas
The Global Shade team are outdoor shade specialists and can create custom shade solutions for all outdoor areas, including courtyards, dining areas, assembly areas, educational areas, activity areas, games areas, children's play areas, patios, and outdoor living spaces.
We can create a standard shade solution that offers sun shade or a waterproof solution for all-weather protection.
Our standard shade sails and shade structures are made from commercial-grade shade cloth, which offers up to 99% UV-R protection depending on the fabric make and colour. We give customers their choice of fabric to meet their shade needs and budget. Our shade cloth fabric options include Rainbow Z16, Rainbow Xtreme 32, Polyfab Parasol, Commercial 95, Alnet Extrablock and Monotec 370 series.
Our waterproof shade sails and shade structures utilise commercial-grade waterproof fabrics that offer 100% UV-R protection along with being completely waterproof. As with our standard solutions, customers can also choose their desired waterproof fabric to meet their budget requirements. Our waterproof fabric options include Ferrari 502, Polyplan 680, and Valmex 580S.
You can learn more about the fabrics we offer on our Fabrics page.
The Global Shade Process
Global Shade manufactures the fabric component of shade sails and shade structures and works with local shade sail installers to complete the process from conception to completion.
Over the years, we have built solid relationships with shade installers along Australia's East Coast. This relationship allows us to create custom shade solutions for outdoor areas from the Sunshine Coast to Melbourne.
When you contact Global Shade with a shade sail or shade structure enquiry, we will gather details about your project and then put you in touch with our closest agent. From there, our agent will review your outdoor area and advise on the best solution to meet your needs. They will provide you with a quote based on your discussions, and if you choose to go ahead with the project, we will come into play, manufacturing the fabric aspect of your shade solution.
The process is quick and easy, and we can usually complete our works within 10-12 days.
Conclusion
If you're looking to cover an outdoor area, whether it be to provide sun shade or all-weather protection, the cheapest and easiest solution is to invest in shade sails or a shade structure.
Global Shade are expert shade manufactures and can help create the perfect solution for your outdoor space.
For a free measure and quote, contact us online or click the button below.