Shade Sails & Structures for Pathways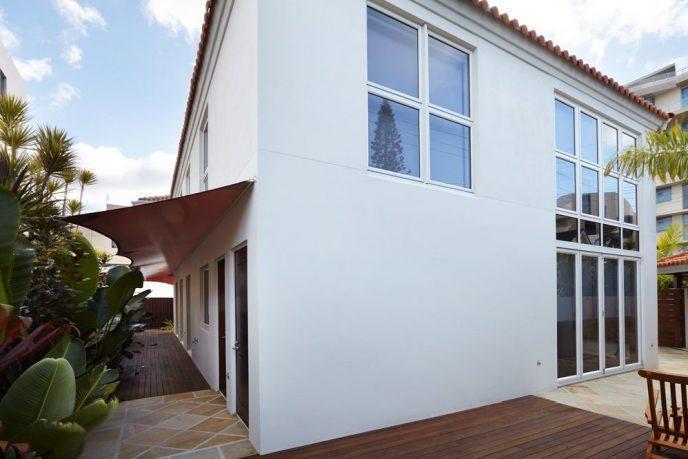 July 14th, 2021 · Published to Applications, Shade Sails by Steve Lewis
Shade sails and shade structures are commonly installed over patios and carports, but they're so versatile that they can be used in just about any outdoor application. One of the best applications, which is often overlooked, is pathways.
Providing a weather-protected path to get you from your car to your front door can make a real difference. A) it's welcoming, B) it provides a clear pathway to your desired destination, and C) it makes the area beneath cooler and more pleasant. Furthermore, if the shade sails or shade structure features a waterproof shade cloth or PVC fabric, it can offer total protection against rain, making a massive difference.
Whether you live in Brisbane, Gold Coast, Melbourne, Newcastle, Sydney, Sunshine Coast, Tweed Heads, or the Central Coast, if it's shade sails and shade structures for residential pathways you're after, you've come to the right place.
Custom Shade Sails and Shade Structures For Pathways
Global Shade has been manufacturing quality shade sails and shade structures, such as canopies and tension membranes, across Australia for more than 17 years. Over the years, we have built a solid reputation for meeting a customer's brief at an affordable price. We have extensive connections with shade sail and shade structure installers in the areas we service. Together, we can design and manufacture the perfect solution to meet your pathway requirements.
Shade Cloth and Waterproof Pathway Covers
As mentioned in the introduction, our shade sails and shade structures can comprise waterproof shade cloth or PVC fabric to provide shade or shade and rain protection.
We only use the very best fabrics in the industry, which offer 5-15 year warranties, and we let you decide which material you wish to use.
We have a range of quality shade cloth fabrics, including the likes of Rainbow Z16, Xtreme 32, Polyfab Parasol, Commercial 95, Alnet Extrablock, and Monotec 370 series. Each fabric offers different shade property values and UV R protection, depending on your colour selection. Lighter fabrics provide lower UV R protection than dark fabrics.
Our waterproof fabric options, also the very best in the shade industry, include Ferrari 502, Polyplan 680, and Valmex 580S. Each fabric offers a different GSM and colour range.
Whether you're after sun protection, rain protection, or both for your pathway, Global Shade has the suitable fabric to meet your requirements.
The Global Shade Process
With Global Shade, the process of getting a custom shade sail or custom shade structure installed over a pathway is quick and easy. Simply contact the team at Global Shade with your pathway shade sail/shade structure requirements. We will connect you with one of our local installers who will visit your home and review the area. They can discuss the design options and recommend whether shade sails or another shade structure is best suited to cover the area.
Our local installers will take measurements of the pathway area you wish to cover and provide a no-obligation quote outlining all costs. If you accept the quote, the design of the fabric component is sent to Global Shade to be manufactured, which is usually a 10-12 day turnaround.
The installers then construct and install the shade sails/shade structure to complete the process.
Conclusion
If you're looking for an affordable solution to cover a pathway, then shade sails and shade structures should be at the very top of your list. The flexible design nature of shade sails and shade structures make them an ideal solution; they can move with the flow of the pathway and are not limited in length. Moreover, they can provide both sun and rain protection.
For shade sails and shade structures for pathways, look no further than Global Shade. As one of Australia's leading shade manufactures, we have installers across the east coast of Australia, from the Sunshine Coast to the Central Coast, and would love to provide you with a free measure and quote.