Shade Sails & Structures for Patios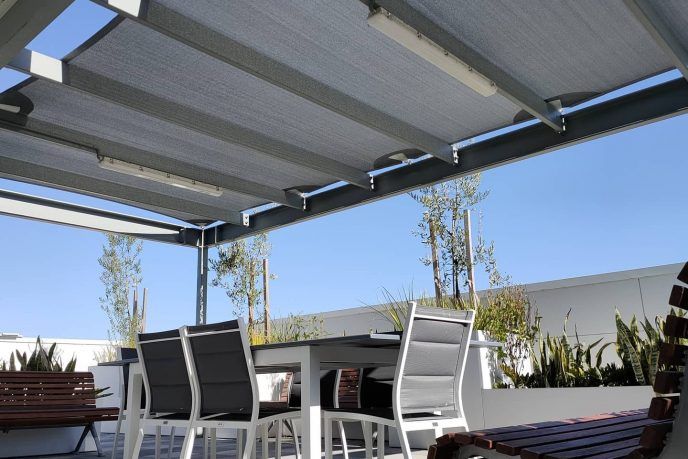 Create a stunning and welcoming outdoor patio area with superior protection from a shade sail or shade structure. Global Shade excels in transforming tired unused patios into things of beauty, areas that not only look great but are usable and welcoming.
If you're looking to live more this coming summer, you need to get summer ready with custom made shade sails and structures for patios from Global Shade.
Whether you live in Brisbane, Gold Coast, Melbourne, Newcastle, Sydney, Sunshine Coast, Tweed Heads, or the Central Coast, you'll find no better patio shade sails and shade structures than those manufactured by Global Shade!
Custom Shade Sails and Shade Structures For Patios
Global Shade has been making superior quality shade sails and shade structures for patios for more than 17 years. As one of the countries premier manufacturers of patio shade sails and patio shade structures, we have the experience and skills to create the perfect solution for any patio setting, regardless of size and scope. There isn't any project too big or too small for our team; from small courtyards to vast commercial patio projects, we can create the perfect patio covering for all applications.
Best of all, shade sails and shade structures are so much cheaper than any alternate option.
Shade Cloth and Waterproof Patios Covers
For a patio to be truly successful, it needs to look great and be functional. It's not enough to create an aesthetically pleasing area if it offers no protection from the elements.
Summer in Australia can reach scorching temperatures, and you need to know that your patio will supply sun protection and comfort in such extreme conditions. With a shade cloth patio cover, you can rest assured knowing you, your family and your guests are protected by as much as 99% UV protection, depending on your chosen shade cloth fabric.
Winter in Australia can be very unpredictable. The sun can be shining one minute; the next, it's pouring down with rain. For complete weather protection, a waterproof patio cover is essential. We manufacture waterproof shade sails and shade structures for patios from the world's finest fabrics to provide all-weather protection. You'll never have to cancel an outdoor barbeque again with a waterproof patio cover from Global Shade!
The Global Shade Process
With Global Shade, the process of getting a custom shade sail or custom shade structure, such as a canopy or tension membrane, installed over a patio or outdoor entertaining area is straightforward.
Start the process by contacting the team at Global Shade with your shade sail/shade structure requirements. We will connect you with one of our local installers, who will visit your home to view the patio area. They can discuss the design options and recommend whether shade sails or another shade structure is best suited to cover the outdoor space.
Our local installers will take measurements of your patio area and provide a no-obligation quote outlining all costs. If you accept the quote, the design of the fabric component is sent to Global Shade to be manufactured, which is usually a 10-12 day turnaround.
The installers then construct and install the shade sails/shade structure to complete the process.
Conclusion
Transform your patio area into a stunningly and highly usable space by investing in shade sails and shade structures designed for patio areas. Global Shade specialises in patio covers made from shade cloth and waterproof fabrics to provide up to 99% UV protection from the sun or 100% sun and rain protection.
Global Shade makes getting shade sails and shade structures for patios and outdoor entertaining areas quick and easy. We can custom manufacture a patio shade solution for any area, regardless of size or shape.
For a free measure and quote, contact us online or click the button below.