The Importance Of Pool Shade in 2020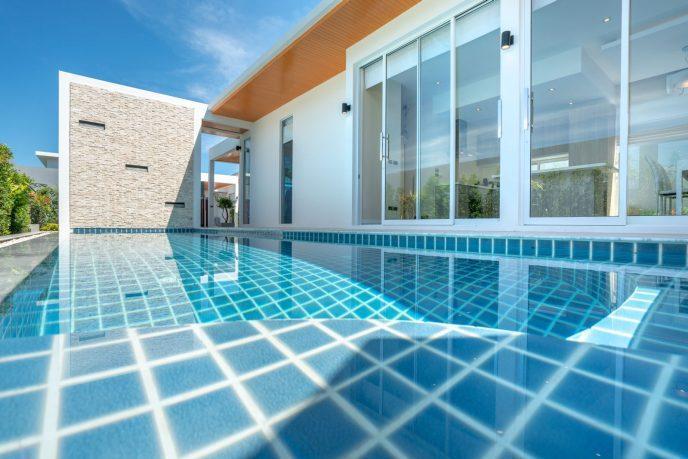 November 18th, 2020 · Published to Shade Sails by Steve Lewis
Having adequate sun protection whilst in a swimming pool has always been an important factor in Australia. But now, in COVID 2020, where we have been forced to spend more time at home than ever before, it's more important than ever.
Summer is upon us, and we will be spending more time outdoors, and more time in the pool.
For those fortunate enough to have a swimming pool, sun protection should always be a priority, especially now, when temperatures and UV factors are at their highest.
While we all know to slip, slop, slap, how many of us do? How many reapply sunscreen when required?
It's easy to forget such things when you're caught up in the moment, having a good time with friends or family. It's even easy to forget to make sure our children have followed sun safety guidelines.
The beauty of pool shade is, it lets you off the hook.
Pool shade, such as pool shade sails are your backup defence against the sun. That's not to say you never have to worry about slipping on a shirt, slopping on a hat, and slapping on sunscreen ever again. But, with the ability to offer a 99% UV block rating, they sure help in the prevention of sunburn or worse, sun cancer.
Pool Shade for Domestic Use
Are you interested in investing in pool shade at home? The great news is, its very affordable. Global Shade specialises in manufacturing shade sails, including those uses to provide pool shade. We make our shade sails from the industries leading shade fabrics including the likes of Rainbow Z16, Rainbox Xtreme 32, Commercial 95, Protext Parasol, Allnet Extrablock and Monotech 370. By manufacturing pool shade from these leading fabrics, we can guarantee the very best protection and longevity from our sails.
Whether you want to shade your entire pool or half your pool, want a single sail or multiple sails, we can deliver a quality solution to meet your needs and budget.
For the best pool shade solutions for your home, give Global Shade a call.
Pool Shade for Commercial Use
In addition to manufacturing pool shade sails for domestic use, we also manufacture solutions for commercial application. Aquatic centres, water parks, public pools, and swim schools, whatever the premises, whatever the requirement, we can supply a suitable pool shade solution.
Many of our commercial pool shade solutions use waterproof fabrics for all-weather protection. In such applications, we rely on the likes of Ferrari 502, Polyplan 680, and Valmex 58OS, which are the best of the best. These fabrics also enable us to offer more robust and permanent solutions than pool shade sails. We can create custom structures that include canopies, tension membranes, and awnings. Regardless of the pool size, we can cover it!
We can also provide shade around a pool as well.
For the best pool shade solutions for your business, give Global Shade a call.
Conclusion
Summer is here, and we're still social distancing and spending more time at home than ever before. For those with a pool, no doubt you're spending more time in it than ever before also. But, do you have adequate pool shade? Are you and your family protected from the sun?
Having adequate pool shade is now more important than ever. The good news is, peace of mind isn't expensive. By investing in pool shade sails, you can rest assured knowing your family has as much as 99% UV protection under the shade of one of our pool shade sails.
Whether you need pool shade for your home or business; backyard pool or water park, we can help. Contact the team at Global Shade today for a free quote. Send us an email or call 1800 724 407.