4 Patio shade structures ideal for your outdoor living area
March 7th, 2017 · Published to Domestic, Shade Solutions by Steve Lewis
It's no surprise that the most valued aspect of outdoor design is outdoor living. In fact, according to the 2016 Houzz.com.au Landscaping Study, 55% of Australians, who are planning an outdoor project or have recently completed an outdoor project, agrees.
If you're in the process of designing your outdoor living space, then know that you have many options when it comes to choosing a patio shade structure. Pergolas are so 1990! Today, you can choose from a variety of shade structures to create the perfect patio.
As a shade solution manufacture, I certainly know all about shade structures. Today, I will list 4 patio shade structures that are ideal for your outdoor living area. By installing any one of these at your home, you can enjoy comfortable outdoor living while being well protected from the sun.
1. Waterproof shade sails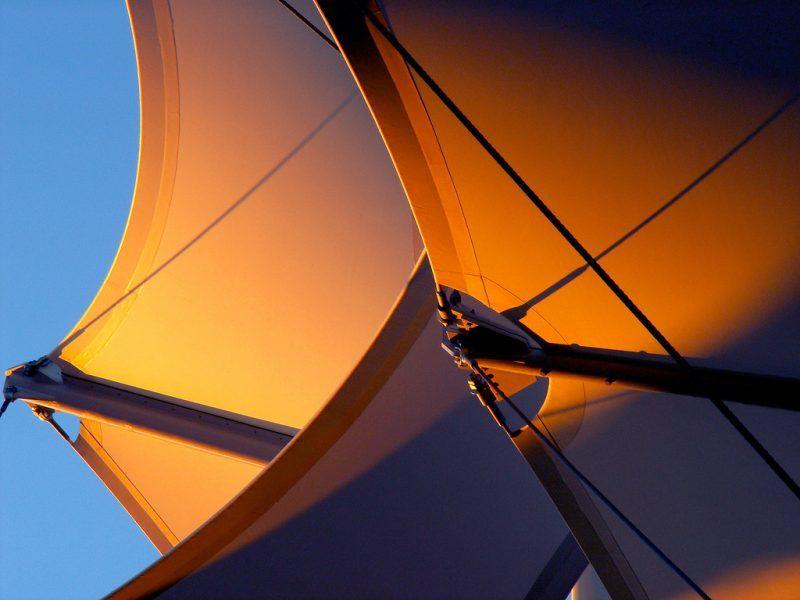 If you're looking for cheap and cost-effective waterproof patio shade structure, then waterproof shade sails are a great idea. High-quality waterproof shade sails, such as those we offer at Global Shade are an excellent solution to creating a shaded outdoor living area.
We manufacture weatherproof shade sails that offer protection from the sun, rain and the wind. They are made from high-grade fabrics, which make them highly resistant to wear and tear. Moreover, our shade sails are lightweight and flexible and can even be installed DIY.
Purchase our shade sails today to can create an outdoor living space at a fraction of the cost of a permanent shade structure.
2. Outdoor blinds
Outdoor blinds are another wonderful shade solution, which are a popular addition to any patio. Outdoor blinds are manufactured using PVC fabrics and they can block out most weather elements including rain, wind and the sun's UV rays.
They are the perfect solution for practical outdoor living areas all around the year.
Here, at Global Shade, our outdoor blinds are commonly used as add-ons to patio shade structures in residential homes, cafes and alfresco dining areas.
We manufacture outdoor blinds in a range of styles and colour options to complement existing décor that you have. We can even manufacture custom blinds to suit your specific requirements.
3. Canopies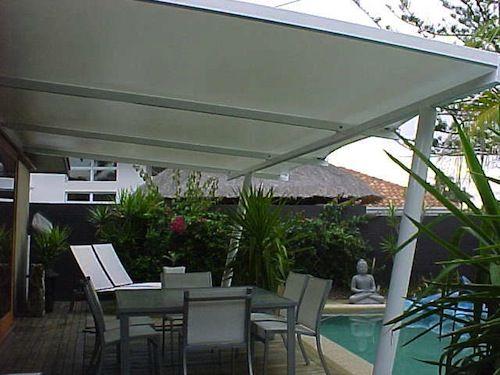 Canopies are yet another shade solution that are ideal for use as patio shade structures. Canopies consist of a flexible shade fabric, which is supported by a rigid frame. As a semi-permanent structure, you can retract a canopy when not in use.
Canopies made out of high-quality shade fabrics, such as ours at Global Shade are excellent for providing all weather protection. Not only are our canopies lightweight, flexible and easy to maintain, but they are also very strong and durable.
By installing one of our canopies in your patio, you can create a comfortable outdoor living space while being protected from natural elements.
4. Outdoor umbrellas
If you're looking for an alternate patio shade structure that is both stylish and economical, then consider outdoor umbrellas.
Outdoor umbrellas can be used just about anywhere – even as patio shade structures. They are widely used across both residential and commercial applications.
At Global Shade, we offer a huge range of outdoor umbrellas, including cantilever umbrellas. Our umbrellas feature high-quality fabrics attached to a rigid frame and they are designed to last a lifetime.
Moreover, our umbrellas also provide great coverage, thanks to the tilt and rotate mechanism. Grab hold of one of our stylish umbrellas to enjoy comfortable outdoor living all-year-around!
Conclusion:
If you're considering installing patio shade structures in your home, then you have a few options on hand. Of many shade solutions, waterproof shade sails, outdoor blinds, canopies and outdoor umbrellas are perfect for use as patio shade structures. You won't go wrong in installing any of these outside your home.
To purchase any of these shade solutions that I have listed above, consider us at Global Shade. We offer high-quality shade solutions that are perfect for use in domestic applications.
Give us a call at 1800 724 407 and we'll be more than happy to discuss your requirements. So, call us today!