A shade structure for every application!
June 13th, 2018 · Published to Shade Solutions by Steve Lewis
Ever noticed all the shade sails used in car parks and playgrounds? Maybe the awnings and blinds over restaurant windows and doors? Or probably you've noticed canopies and membranes providing shade in theme parks and hotels? There's one thing common with all of these – they're all shade structures which provide shade and cool the area underneath.
Shade structures are available in various forms and are suitable for use in a variety of applications. As a shade solution manufacturer, today I'll outline some of the applications where shade structures are used. If you're looking to reduce heat and increase sun protection at home or at your workplace, this article is meant for you. You'll discover what's the best shade structure for your particular application.
Residential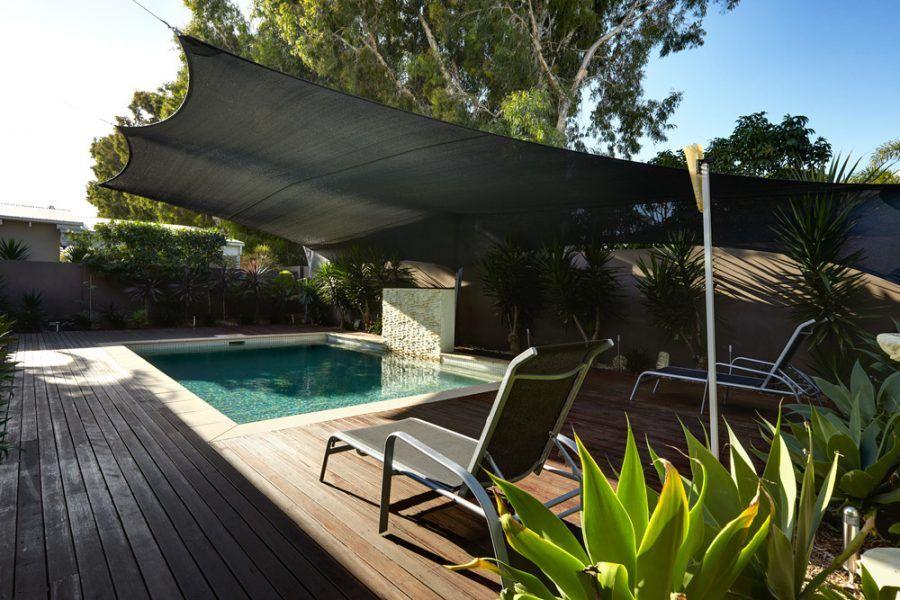 There are several areas in a residential/domestic home which require shade. These include swimming pools, patios, driveways, outdoor entrainment areas, verandas and walkways, among others. Shade sails and DIY shade sails are the best shade structures for residential applications. Also, many homes make use of outdoor blinds and awnings to shade their windows and doors. At Global Shade, we customise our shade solutions to meet the exact requirements for residential applications.
Commercial
Different types of commercial applications make use of different types of shade structures. For instance, some commercial businesses require a large area to be covered by shade while others require smaller coverage. Shade sails, canopies and tension membranes are some of the most common shade solutions used for such commercial applications. Most of these are fixed shading solutions that need not be adjusted after installation.
Hospitality
Many hotels, restaurants, cafes and bars in Australia offer outdoor seating areas to customers. These areas need to be protected not just from the sun, but also from other weather elements. For this purpose, waterproof shade structures including shade sails, canopies, tension membranes, outdoor umbrellas, awnings and PVC blinds are popularly used. At Global Shade, we even customise our shade structures to reflect branding requirements.
Playgrounds and parks
Parks and playgrounds are plentiful all over Australia. However, these areas are prone to receiving sunshine throughout the day and they require some shade structure. Custom designed shade sails and custom tension membranes, such as those we offer at Global Shade are the best choices for shading large open areas.
Theme parks
Theme parks are much the same – there are long stretches of walkways which need to be shaded. As with parks and playgrounds, custom tension membranes, large canopies and custom shade sails are suitable for shading theme parks.
Car parks
What's worse than getting into a car that's been sitting in the sun for hours? Many car parks are notorious for not having a permanent overhead structure for shade. Here, shade structures such as canopies are often used. Canopies are available both in pre-engineered designs and custom-made designs.
Schools and kindergartens
Every Australian parent knows the importance of sun protection. That's why schools and kindergartens in Australia often make use of some shade structure in outdoor areas. Custom tension membranes and custom shade sails are the most commonly used shade structures in schools and kindergartens.
Conclusion:
Shade structures are available in a variety of different forms and they are suitable for different applications. For residential applications, shade sails and DIY shade sails are commonly used. For commercial applications, commercial shade sails, canopies and tension membranes are used. For hospitality applications, outdoor umbrellas, PVC blinds, canopies, tension membranes and shade sails are used. For playgrounds and parks, theme parks, schools and kindergartens, custom tension membranes and custom shade sails are used. Carparks make use of canopies.
As you can see, shade structures are available for almost every conceivable application. Whatever type of application you're consider, you can bet that an appropriate shade structure exists. And, even if it doesn't, you can count on us at Global Shade to customise a solution for you. Call us today at 1800 724 407 to discuss your shade structure requirements for any application!