Affordable Pool Shade options for your home
December 6th, 2017 · Published to Shade Solutions by Steve Lewis
Hanging out by the pool during the summer is lots of fun, but in the hot Australian sun, this could quickly become a health hazard. According to the Cancer Council Australia, approximately, two in three Australians will be diagnosed with skin cancer by the time they are 70.
The statistics also state that Australia has one of the highest rates of skin cancer in the world, most of which is caused by exposure to UV radiation in sunlight.
But what's the point of installing a pool in your home if you can't relax by it and enjoy the weather? Well, you still can relax by the pool if you get a nice pool shade to block the harmful UV rays from the sun.
Pool shades come in different shapes and sizes, however as shade manufacturers and installers, there are two types of pool shades that are the most common in Australia, these are shade sails and shade umbrellas because they are versatile, easy to install and affordable.
At Global Shade, we have worked a lot with these two shade options, which is why we are qualified to discuss them, weigh their benefits and provide you with sufficient information so you can decide which option is the best for your home.
Shade sails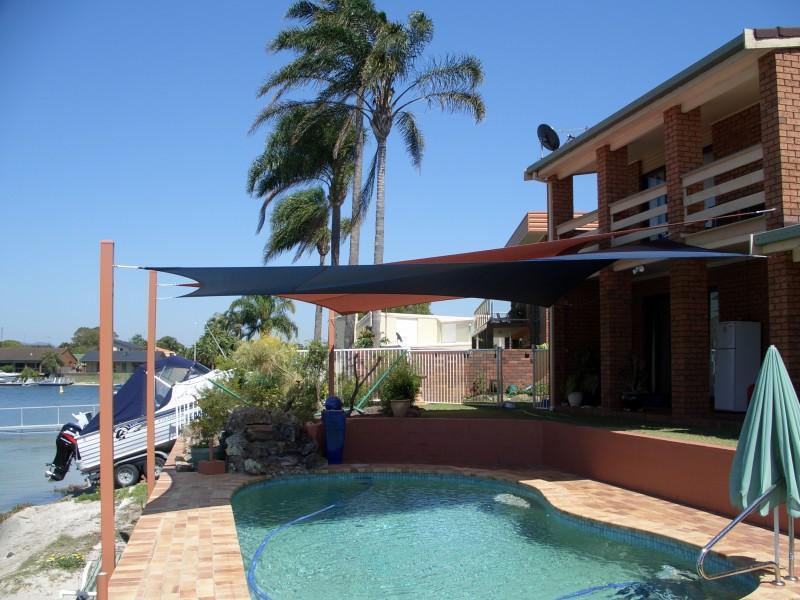 Shade sails are a particularly popular pool shade option in Australia. They are incredibly versatile and work perfectly well as pool shades. When high quality fabric is used for the shade, they have high UV protection levels providing shelter from the hot sun and from the harmful radiation. Shade sails also have interesting shapes, which enhances the aesthetics of your home. The elegance and style they add to an area make them a favourite among homeowners across the country.
The downside of the sails is that you might need more than one to provide adequate protection from the sun because of their unique shapes, which might make cost a bit more. However, shade sails last a really long time and when properly installed, need very little maintenance, making them an affordable pool shade option for your home.
Outdoor umbrellas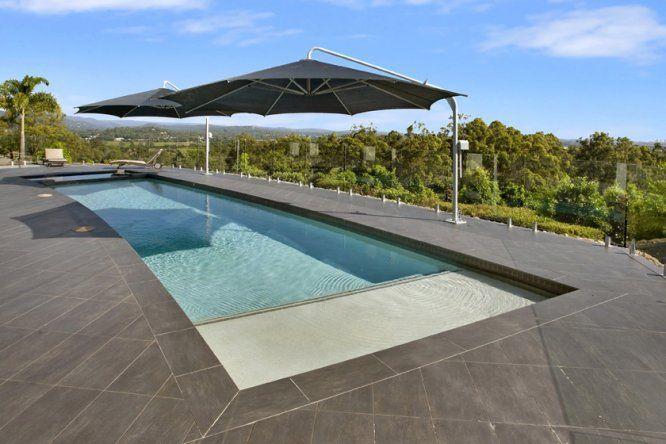 Umbrellas have always been a stylish and affordable pool shade option for the home. The fact that they are often used in commercial pool areas such as in hotels and resorts is testament to their resilience and flexibility. Outdoor umbrellas can be moved about so that you can get shade exactly where you need it. As the direction of the sun changes, you can change the location of the umbrella. If you decide to go for this option, you should contact credible shade installers who also design and manufacture umbrellas. This way, you can get custom umbrellas that are modern as well as functional, and designed to suit your needs.
The problem with outdoor umbrellas is that they do not look as elegant when they are folded up, but this is just a minor disturbance and cannot compare to the protection that they offer. At Global shade, we use fabrics that have high UV protection levels to make our outdoor umbrellas, and this is something you really should consider when ordering your umbrellas.
Conclusion
Exposure to the sun can lead to a lot of skin conditions like sunburn and skin cancer, including melanoma, the most dangerous kind of skin cancer. In order to enjoy your poolside without worrying about exposure to harmful UV radiation from the sun, you need a good pool shade. Two popular pool shade options are shade sails and outdoor umbrellas because of their flexibility and affordability.
At Global Shade, we provide affordable pool shades that are low in price and high in quality, servicing Australia wide. Contact us on 1800 724 407 for a free quote.