Canopy: A Flexible Shade Solution
July 25th, 2015 · Published to Shade Solutions by nicole
If you're looking for a flexible and affordable shade solution, you'll see that there are many options on the market, but a canopy is something you should take into consideration for many reasons. Here at Global Shade, we have been designing, manufacturing and installing shade solutions, including canopies, for more than two decades. I know you want to make the best possible decision when it comes to a shade solution which is why I suggest a canopy is just the thing you've been searching for. Canopies are considered to be one of the most popular shade solutions, because they are flexible, affordable and attractive.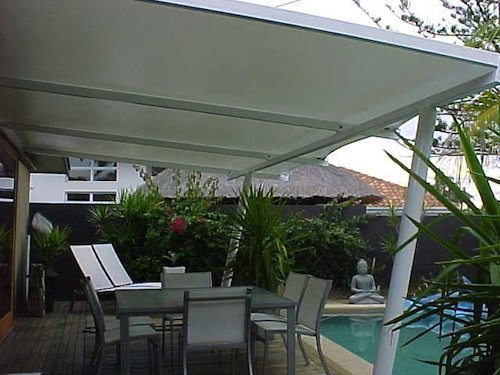 In this article, I'll explain what a canopy is, why it is a fixable shade solution, and I also provide you some tips on what to look for when buying a canopy.
A canopy is a covering that usually comes with the lightweight steel frame. It is a structure suitable for a range of applications such as patios, courtyards, verandahs, cafes, restaurants and more. Wikipedia describes a canopy to be "an overhead roof or else a structure over which a fabric or metal covering is attached, able to provide shade or shelter". There are various types of canopies, but in this instance we are specifically talking about shade canopies. Canopies are one of the most affordable solutions, and they can be easily installed.
As a sturdy and attractive shade solution, canopies provide comfort and protection from the sun and rain. They turn an outdoor rest and any outdoor activity into the ultimate enjoyment. Outdoor entertainment is important for both, home and business owners, and in order to fully relax when spending your time outside, you must be sure that the shade is provided. A canopy delivers protection, and no matter what is the current weather, fun is guaranteed. Moreover, a canopy can enhance the appearance of the entire property.
Here at the Global Shade, you can find a canopy that will be a perfect match to your property in terms of design and style. Most importantly, we manufacture and install high quality canopies that provide comfort and protection.
What to consider when buying a canopy
When buying a canopy, no matter if it's for residential or commercial use, there are a couple of things you'll need to consider. First, you'll have to decide where the canopy will be installed. Once you make a decision, you'll have to choose the size. Canopies can be made from different materials, and one of the best options is a lightweight steel frame with a waterproof PVC fabric, because it's long-lasting and sturdy solution. Design and color are important as well. In case you are not sure about the size, materials, or design and color of the canopy, feel free to contact us here at the Global Shade, and we will help you to choose the finest canopy for your residential or commercial establishment.
Conclusion
If you are looking for a flexible shade solution, there is nothing better than a canopy. Canopies provide protection from the sun and rain, and they turn every outdoor activity into ultimate enjoyment. They can be easily installed, and they come in different shapes, sizes and colors. A canopy will also enhance the appearance of your property, and because of all these reasons, it's no wonder why they are a flexible shade solution.
To purchase a high-quality canopy, contact Global Shade by calling 1800 724 407 or visit our Contact Us page.
Related Topics