4 Reason to Invest in Doorway Awnings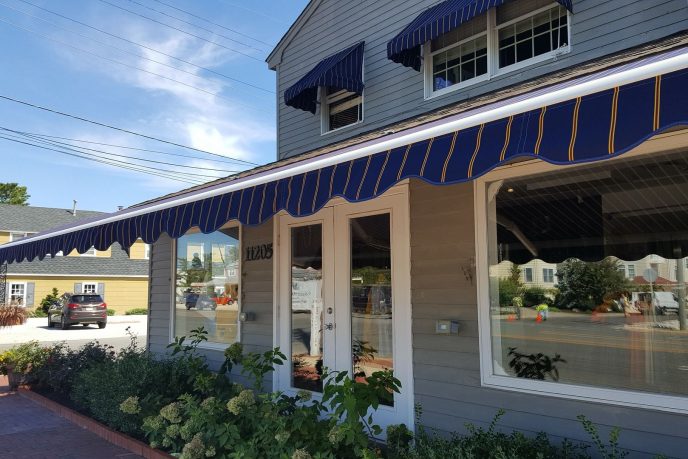 May 27th, 2020 · Published to Awnings by Steve Lewis
Awnings aren't only handy for blocking heat from entering windows! Did you know that they are just as convenient for blocking heat from doors and doorways?
A couple of weeks ago, I wrote an article that looked at how to choose awnings for windows, but I failed to mention doorway awnings! Doorway or door awnings offer the same shade benefits as window awnings but are often overlooked, particularly in residential settings.
I want this to change. Today, I'd like to take a moment to shine the spotlight on doorway awnings and highlight all the reasons why you should consider investing in them for your home, office or workplace.
Reduce Electricity Bills
Undoubtedly, the biggest of investing in doorway awnings is the electricity savings you will reap as a result of their installation. Doorway awnings block the sun from penetrating through the doors which, in turn, cools the home. In fact, energy.gov suggests as much as 77% heat reduction. This is quite significant. You won't need to rely on air conditioning and fans as heavily in the hotter months, which will reduce your energy consumption.
Creates a Welcoming Entrance
Doorway awnings also add great aesthetics to a home. In particular, doorway awnings placed over a front door create a very welcoming entrance. This will also improve a home's curbside appeal significantly, which if you're looking to sell your home, will not only make your home more attractive to potential buyers but produce a quicker sale and may even increase the sale price. Moreover, front door awnings are much cheaper than having a front patio built, so it really is a win, win!
Provides Weather Protection
No one likes getting caught in the rain, so why would you not have some form of weather protection at your doorway? Don't get caught-out searching for keys in the rain again. With a doorway awning installed, you will be protected from the elements at all times. Whether you're entering the front door, exiting the back door or stepping out to your patio area, doorway awnings provide an extra level of protection, which protects not only you but your doors from the elements also.
Protects the Indoors
Along with protecting you and your doors from the outside, doorway awnings will protect the assets inside your home. At Global Shade, our awnings provide 100% production against not only rain but the sun's Ultra Violet rays as well. This means, your blinds, carpet, furniture and any other assets that lie directly opposed to the awning will be more resistant to fading. Doorway awnings will also help reduce glare which can be a real pain in the backside if you're trying to watch TV.
Conclusion
We love awnings! They are so versatile, so flexible and soooo affordable! However, when people think of an awning, they often think of a window awning or a shade awning. Seldom do doorway awnings get the recognition they deserve. I want to change this!
Doorway and door awnings are a fantastic shade solution for both residential and commercial settings. The will make you less dependant on fans and air conditioners and will, therefore, reduce electricity bills, will make your home appear more inviting, which will, in turn, improve your curbside appeal, offer weather protection, so you don't get wet entering your home, and will reduce glare and block UV rays from entering your home and fading your assets.
If you'd like to enquire about doorway awnings for your home, office or establishment, then give us a call at Global Shade. As shade manufactures, we custom-make all our awnings to meet your requirements and offer a range of fabric options.