Energy Efficient Awnings to Cool Your Home
October 28th, 2015 · Published to Awnings by nicole
Brisbane has a lovely tropical climate, but there are times when the sun shines down in full force and temperatures begin to soar. When this happens, it can get quite uncomfortable indoors forcing us to use more power to cool the home. The solution is to prevent as much sunlight from entering the home or place of business as possible. A good way to do this is to have Brisbane awnings specialist Global Shade, install energy efficient window awnings on the windows that face the morning or afternoon sun.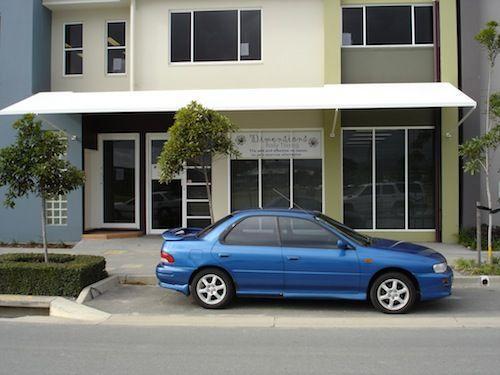 I've been manufacturing and distributing awnings and other shade products for almost 3 decades. Over the years, these products have evolved significantly, mostly because of the availability of more efficient materials. In this article I want to share with you this evolution, specifically how awnings can make your home or business more energy efficient.
Advantages of modern Brisbane awnings
Today, awnings are popular and you'll see them installed on many homes. However, most of the early awnings were made from metal or canvas. While these were effective in blocking sunlight, they required a bit more maintenance as they had a tendency to fade after a few years.
Modern awnings are made of synthetic material that is not such as prone to fading. In terms of energy efficiency, these awnings reduce the amount of solar heat entering the home by as much as 77%. This translates into rather substantial energy savings by requiring less energy for cooling purposes.
Additionally, modern awning designs allow for hot air ventilation. In traditional designs, hot air was trapped by the awning. While this doesn't directly transfer heat inside the home, it can indirectly increase the temperature of the window and surrounding walls.
Awnings that are designed so hot air is ventilated efficiently not only the build up of heat in the surrounding area, but also reduce the wear and tear of the awning material, thus increasing the lifespan of the awning.
Another advantage of modern Brisbane awnings is that they are much more weather resistant than early models. Awnings are not only exposed to the sun, but also to other forces of nature such as wind and rain. Modern materials, such as polyvinyl laminate and acrylic are water resistant and extremely durable. Unlike canvas that can get crispy in time due to the combination of heat, dust and rain, modern materials retain their characteristics for a much longer time.
Trust only the specialists for Brisbane awnings
Window awnings are a great way to slash your electricity bills, especially during the hot summer months. However, it's important to remember that awnings are not created equally. As earlier mentioned, older designs use canvas or metal that need to be maintained, which translates into additional costs.
If you're searching for Brisbane awnings, trust only the specialist. Global Shade has been in the industry for a long time and the only way we've managed to last that long is because of our dedication to quality. We manufacture all our shade products in accordance with the highest standards of quality. Therefore, our awnings are built to last.
When investing in energy efficient awnings, you want to make sure that you purchase the best. After all, there are times when the weather in Brisbane can be unforgivable. You certainly don't want products that aren't able to withstand the elements. For awnings that keep your Brisbane home cool for a lifetime, call us here at Global Shade (number at the top of the page!). With our wide range of designs, you're sure to find one that's perfect for your home.
Related Topics