Pergola Shade Ideas That Don't Cost a Fortune!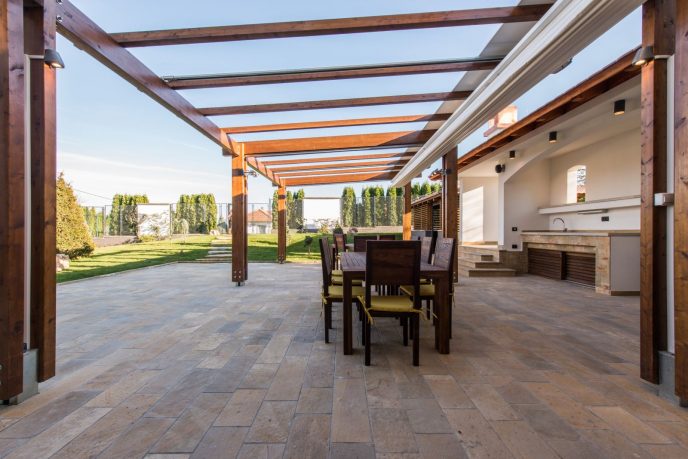 May 13th, 2020 · Published to Domestic by Steve Lewis
What's more Aussie than a pergola? Really! I love pergolas; I love their practicality, their vast range of material and design options, and I especially love being able to have a BBQ under one.
If you're looking to get more enjoyment from your outdoor areas, then the addition of a pergola is a brilliant idea. However, as mentioned, there are a zillion options in terms of designs and materials too. They can be permanent fixtures – like an extension of your indoors, or they can be temporary and flexible. While the former sounds more luxurious, you will likely need a loan to afford such an extension. So, the question becomes, "what pergola shade options won't send me broke?" Thankfully, with Global Shade, there are many, which we look at in detail below.
Continue reading to discover the best pergola shade ideas that don't cost a fortune.
Shade Sails
You will find no cheaper pergola shade idea than shade sails. Shade sails are flexible, versatile, and affordable, and unlike timber pergolas, they require no building approval and take as little as two days to install. Unbeknown to many people, shade sails not only provide patio shade, but they can also provide 100% waterproof protection for a pergola. While standard shade sails are manufactured from shade cloth, waterproof shade sails are made from PVC materials and provide very cost-effective all-weather protection.
Patio Awnings
Patio awnings are another great pergola shade alternative. They provide all the benefits of shade sails; however, they are more robust, and unlike shade sails, they can be attached to a dwelling to produce a water-tight seal. This is of particular interest if you're looking to have your pergola run off your living area / adjoining your home.
Patio awnings are manufactured with steel or aluminium frames and commercial-grade PVC materials. They can be designed with a flat or arched roof and are far cheaper and quicker to install than timber pergolas. They can be attached directly to a dwelling and require no posts, or be supported by two or more posts.
Shade Canopies
Another fantastic pergola shade idea is a shade canopy. Shade canopies are similar to patio awnings in the sense that they offer the same frame and material options, and that they provide a water-tight seal, however, how they differ is in the architectural design. There is total design freedom with shade canopies; they can be any shape, feature any number of posts, and have any type of frame design. They can also feature shade cloth material or waterproof materials. Because of their flexibility, they are an excellent choice for unusual-shaded patio areas and large spanning areas.
Conclusion
Pergola's are just as Australian as meat pies! We love them; they allow us to entertain friends and families with drinks and BBQs and can provide much-needed shade and protection against the elements. However, pergolas aren't always affordable. Especially the permanent 'outdoor room' type. There are, however, alternative pergola shade options that you can consider.
Shade sails are the most affordable pergola shade option; however, they cannot provide a water-tight seal to a dwelling. However, patio awnings and shade canopies can. Both are similar to one another; however, canopies are a better choice for unusual-shaded and large areas than patio awnings.
Shade sails, patio awnings and shade canopies, such s those that we manufacture here at Global Shade are very affordable pergola shade solutions. They can be custom-made to meet your needs and size requirements and won't cost a fortune!
To request a free no-obligation quote on our pergola shade solutions, simply call us on 1800 724 407 or submit an online enquiry.