Waterproof Shade Sails Vs. Other Building Products
May 15th, 2019 · Published to Shade Solutions by Steve Lewis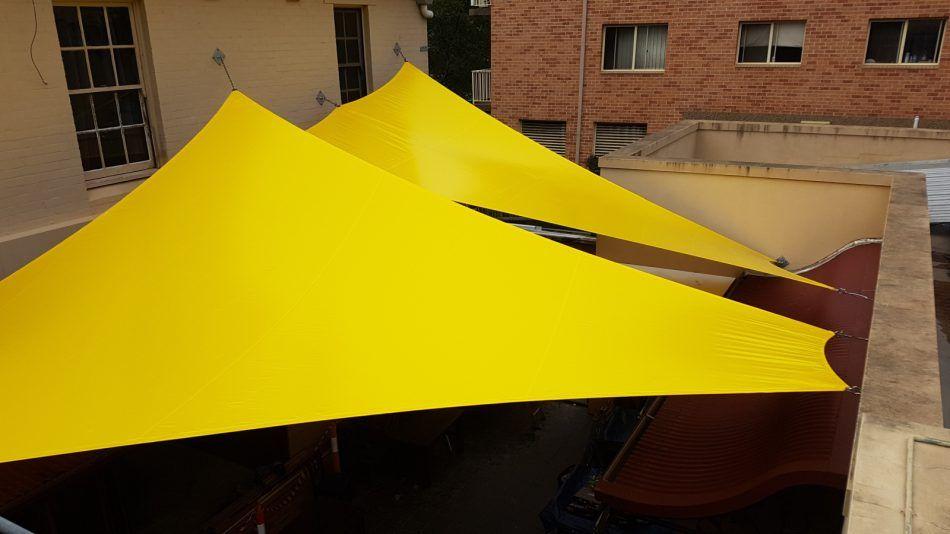 When it comes to creating a sheltered structure for your home or business, there are plenty of options to choose from. These include shade sails, tin sheds, brick structures with tiled roofs and even glass atriums, among others. While there are many differences between these solutions, the most notable difference is their cost. This is one big reason why shade sails, especially waterproof shade sails, are immensely popular in Australia.
Today I will compare waterproof shade sails with the other types of shade solutions. Hopefully, this article will help guide you in choosing the right shade solution for your budget and needs.
Warranty
Any warranty does not cover tin sheds, brick structures, and tiled roofs and glass atriums. However, shade sails are always backed by manufacturer warranties, typically ranging between 5-15 years.
Waterproof shade sails, such as those we offer, are made out of superior grade fabrics and feature extended warranties.
Costs
Investing in a waterproof shade sail will cost you much less than setting up a tin shed, a glass atrium or a brick structure with tiled roofs. Your initial purchase costs, as well as maintenance cost, is significantly less.
Design options
Waterproof shade sails come in a choice of several colour options, and they can even be custom designed to meet your specific needs. Shade sails come in square, triangular, rectangular and they can also be customised to any shape. Shade sails offer no limitations in design, which cannot be said for other building products. The aesthetic element is also one big reason why waterproof shade sails are so popular across commercial applications.
Practicality
Waterproof shade sails can be removed when not in use. Their flexibility, versatility, and ease of replacement make them a very practical shade solution. On the other hand, glass atriums, brick structures, and tiled roofs and tin sheds are permanent shade structures. While there is significantly more effort required during their installation, they cannot be taken down when not required.
Waterproof shade sails are perfect for use in a variety of applications, both in homes as also business locations.
Material weight
While waterproof shade sails are made out of heavyweight shade cloth fabrics, the overall weight of shade sails is negligible compared to other building products.
Sun protection
Shade sails (both standard and waterproof) and tin sheds are the only building products that offer excellent sun protection and high sun reflection. Brick structures and tiled roofs offer good sun protection and sun reflection while glass atriums offer low protection.
Conclusion:
If you are thinking of investing in a shade solution, then you should consider waterproof shade sails over other building products. Waterproof shade sails are covered by extensive warranties opposed to tin sheds, brick structures, and tiled roofs and glass atriums. They are more cost-effective, offer unlimited design options, more practical, light in weight, and offer better sun protection and sun reflection.
With so many reasons to choose from, it certainly makes sense to invest in a waterproof shade sail, whether you are considering using it in your home or business location. Moreover, for the best quality waterproof shade sails in Australia, look no further than us at Global Shade! We can custom design a waterproof shade sail to meet your exact needs and budget.
Get in touch with us to discuss your waterproof shade sail requirements with one of our experts today!