Aluminium Awnings vs Metal Awnings – Which Is Best?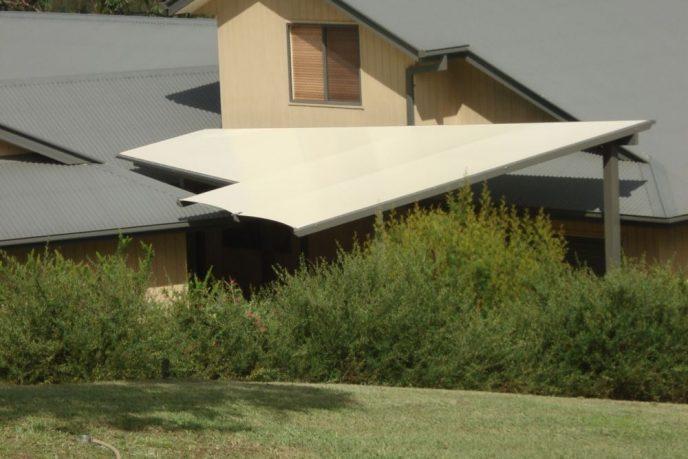 July 1st, 2020 · Published to Awnings by Steve Lewis
Without a doubt, awnings are one of the most popular shade solutions in Australia. They are used at schools, homes, hospitality establishments, theme parks, over patios, doorways and windows, and can be installed just about anywhere. There are also many types of awnings, including aluminium awnings and metal awnings.
Now, you may think that aluminium and metal awnings are the same. However, they are not – there are vast differences. And while we at Global Shade only manufacture the fabric component of awnings and not the frame, this is still an essential consideration for the order process. Whether you're buying the awning fabric from us or purchasing your awning from one of our suppliers, you will need to decide which is better for you: aluminium awnings or metal awnings.
Continue reading this article to find out the pros and cons of each. You'll then know which offers better quality, however, like everything, the finale deciding factor may ultimately come down to price.
Aluminium Awnings
Let me start by stating the obvious: aluminium awnings are cheaper than metal awnings. This is one of the main reasons why people choose them over their counterparts. The other advantage is the fact that they are more environmentally-friendly than metal awnings. Aluminium is also a lighter material than metal, which makes aluminium awnings easier to install.
However, there are, of course, downsides; mostly the fact that aluminium is less durable than metal, and therefore, aluminium awnings won't offer the same longevity as metal awnings. And, there's the fact that aluminium can rust if not treated with a waterproofing agent.
In terms of the awning fabric, this generally isn't a factor. The same high-grade awning fabrics that are available for metal awnings are available for aluminium awnings – unless the awning is of significant size. In which case, a strong metal frame may be required. Because of this, aluminium awnings are more commonly found in residential settings such as over patios or carports than in commercial environments.
Metal Awnings
Metal awnings are obviously the more costly option. However, they are also the superior option of the two choices. Metal is highly sturdy and will withstand more robust weather conditions, which is a factor in wind prone areas. As a result, metal awnings require lesser maintenance than their counterparts. Moreover, They will offer greater longevity than aluminium awnings, the frame lasting up to 30-years as opposed to 20-years.
There aren't many drawbacks associated with metal awnings besides the increased costs. They may need treatment over time, but other than that, you can trust them to provide long life.
Their strength means they can support any fabric, including the heavier commercial-grade PVC fabrics, which makes them an excellent choice for commercial applications. They are commonly used for shopping centre car parks, and to provide shade over spectator seating at sporting fields.
Conclusion
If you're in the market for an awning in Australia, when it comes down to the frame, you generally have two options; aluminium or metal.
Aluminium awnings are more affordable, but will require maintenance and won't provide the same lifespan as metal awnings. Metal awnings, on the other hand, are more expensive but offer superior strength, longevity and little to no frame maintenance. In many cases, aluminium awnings are the preferred choice for residential installations, while metal awnings are more ideal for commercial applications.
Regardless of which awning frame you choose, give Global Shade a call. We can put you in touch with local awning companies that will be able to provide you with a quote for whichever best suits your need. Call us today on 1800 724 407.