Request a Free Quote

Blog Categories
Extreme 32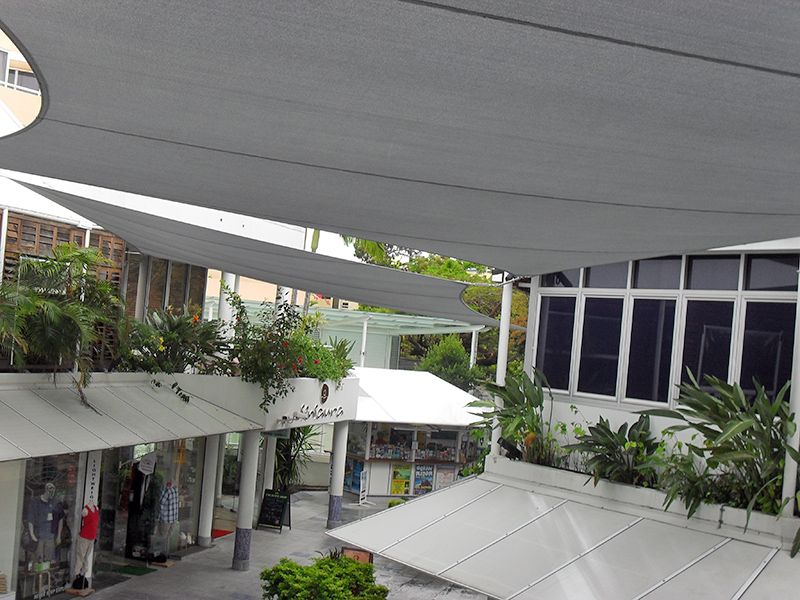 We utilise only the highest-quality shade textiles for our shade sails and structures, and Extreme 32 is no exception. It is one of the finest shade textiles now available in the industry, with a diverse range of colours and exceptional UV protection to offer clients.
Rainbow Shade, widely recognised as one of Australia's and maybe the world's top shade fabric makers, designed and manufactured this outstanding shade fabric.
Offering superior solar protection solutions for more than 25 years, Rainbow Shade is well-known across the industry for manufacturing products that satisfy the strictest of safety and quality standards. The high level of quality, service, and integrity that they provide have won them an enviable reputation, and they have proven themselves in the harsh Australian environment.
The Fabric
Extreme 32 is a knitted ultra heavy-duty shade cloth made of HDPE that is noted for its strength and protection. As a result, it's ideal for large-scale shade sail and structure installations that demand a lot of strength and stability.
For ultimate sun protection, the Extreme 32 has a monofilament and tape structure. This design allows it to work admirably in tough situations while still delivering excellent UVR protection (up to 95.8 per cent).
Extreme 32 is made from the best quality raw materials and is built to withstand Australia's harsh temperature and environment. It has been thoroughly tested against the sun and the weather, to the point that the fabric is guaranteed by a 10-year UV breakdown warranty. Trust that the fabric has been thoroughly tested against the sun and temperature and will last for many years.
The Benefits
Extreme 32 is one of Australia's most popular shade cloth fabrics and amongst the most popular choices from Global Shade clients, and it's easy to understand why.
The advantages are numerous. The most significant advantages are its extraordinary strength and great UV-R protection, which, as previously said, is up 95.8 per cent. Other noteworthy advantages are its exceptional heat and glare reduction qualities, simple care and maintenance needs, long-lasting durability and longevity, resistance to dimensional stability, fire rating, and magnificent 14 designer colour variety.
Colours in the Extreme 32 range include Quartz, Cinnamon, Hazel, Desert Sand, Silver, Charcoal, Black, Terracotta, Rainforest, Navy, Royal, Red, Zesty Lime, and Electric Purple.
The Applications
Due to its strength and durability, Extreme 32 is an excellent choice for large high tension shade sails or one-of-a-kind architectural shade structures that require high structural support. It may be configured in a plethora of ways, making it an excellent choice for commercial shade structure applications.
Extreme 32 is up to the challenge of creating a single shade sail, several shade sails, a lotus canopy, a tetra canopy, a hypar canopy, a framed canopy, or an architecturally planned building. Furthermore, there are very few restrictions on the kind of applications that it may be used for.
This strong shade cloth fabric is the perfect choice for commercial applications spanning large areas. Such applications include shopping centre car parks, sports courts and sports facilities, outdoor areas, hospitality businesses, commercial and public pools, and other commercial businesses. It is also suitable for residential applications covering large areas or installations that require a more durable shade cloth fabric than Z16.
Our ability to produce the material component required to complete any shade structure rapidly, economically, and, most importantly, from high-quality fabric with exceptional lifespan has been demonstrated by our use of Extreme 32. You can be confident that your shade sail will continue to provide protection to you and your visitors for many years to come if taken care of properly.
Conclusion
In terms of the highest-quality shade cloth fabric available at an affordable price and suitable for large installations, Extreme 32 from Rainbow Shade is unrivalled in performance and value.
We use it at Global Shade because of its incredible strength and high UV-R protection (up 95.8%). Furthermore, it is easy to care for, has a long lifespan, resists dimensional instability and fire, and comes in 14 designer colours.
If you would like additional information about Extreme 32 or how we use it for our commercial shade sail and shade structure projects, please contact us as soon as possible.