Request a Free Quote

Blog Categories
Polyfab Parasol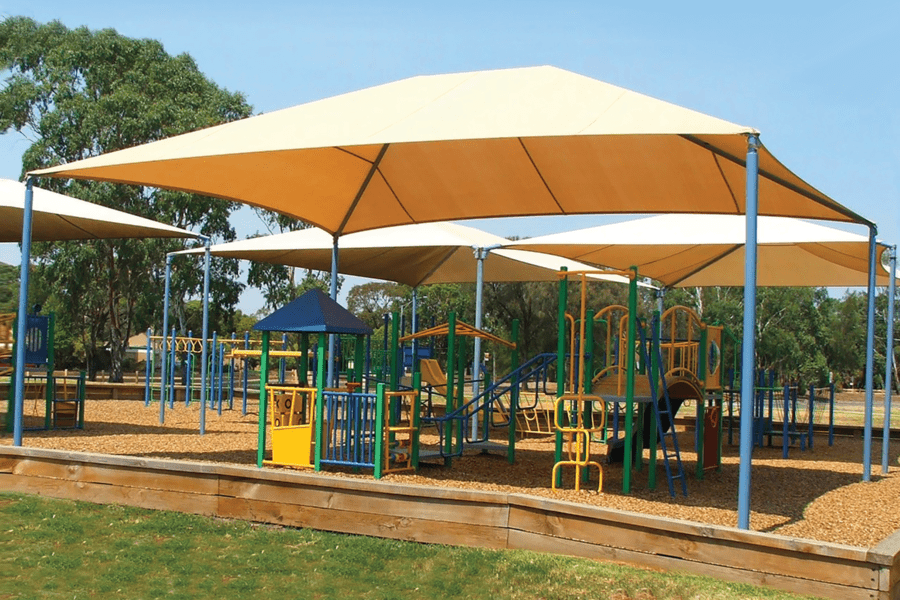 When it comes to the fabric component of shade sails and shade sails, Global Shade uses only the highest-quality shade textiles. And Parasol is no exception. Being one of the best shade cloth textiles on the market, Parasol provides excellent UV protection for commercial and residential applications.
Polyfab, an Australian firm with a long and successful history of producing excellent shade textiles, manufactures Parasol. Since 1995, they've been on the cutting edge of shade cloth development and delivering market-leading protective fabrics for shade structures.
There can be no compromise on protection when it comes to environments with young children. Australians are exposed to the highest amounts of Ultra-Violet Radiation (UVR) in the world. Thus providing quality shade for students and children should be a top concern. With its high UVR protection, the Parasol series is an ideal choice.
The Fabric
Parasol is a commercial-grade, versatile, and dependable knitted shade cloth.
Parasol is produced to strict quality and manufacturing criteria and is designed for Australian conditions. The fabric is made from a blend of high-density monofilament and tape, which offers a higher level of UV protection, reducing the risk of sunburn and skin cancer.
For ease of fabrication and increased performance, Parasol is 'heat set' before rolling. This process improves its lay-flat qualities and dimensional stability, enabling it to perform well in challenging environments while still providing excellent UVR protection (up to 95.3 per cent).
Parasol is made to endure Australia's severe climate and environment. It has been rigorously tested against the weather, to the point that the fabric comes with a 10-year strength loss and a 2-year colour change warranty. You can count on Parasol to offer excellent longevity for years to come.
The Benefits
Parasol is one of Australia's best shade cloth fabrics and amongst the most popular choices from Global Shade clients due to its versatility.
However, its versatility isn't the only advantage. The most significant features of Parasol are its UV stabilised characteristics and high UV-R protection, which, as previously said, is up 95.3 per cent. Other noteworthy features include its resistance to abrasion, high strength, fire rating, and unique 15 colour options. The Melanoma Internation Foundation also approves this fabric.
The Parasol range includes Beach Sand, Black, Charcoal, Forest Green, Gunmetal, Harvest, Ivory, Navy, Ocean Blue, Red, Sky Blue, Steel Grey, Terracotta, Turquoise, and Yellow.
The Applications
With its exceptional strength and resilience to wear, Parasol is an excellent choice for large, high tension shade sails and shade structures of any size.
Due to its flexibility, the fabric is referred to as the 'do it all' shade cloth. It is ideal for just about any shade structure or sail configuration. Common applications include shopping centre car parks, sports courts and sports facilities, outdoor areas, hospitality businesses, commercial and public pools, and other commercial businesses. Parasol is also suitable for residential applications covering large areas or installations that require a more durable shade cloth fabric than Z16.
Whether you're after a single shade sail, multiple shade sails, lotus canopies, tetra canopies, hypar canopies, framed canopies, or even an architecturally designed structure, Parasol is up to the task.
Parasol allows us to create shade sails and structures quickly and, most importantly, from high-quality fabric we know will provide an exceptional lifespan. You can be confident that a shade structure made from Parasol will protect you and your visitors for many years to come.
Conclusion
In terms of the highest-quality shade cloth fabric available at a reasonable price and appropriate for commercial installations, Polyfab's Parasol is unrivalled in performance and value.
Parasol is used by Global Shade for commercial-grade shade structures because of its unique blend, which adds strength and abrasion resistance, and its UV stabilisation and strong UVR protection properties.
If you would like additional information about Parasol or how we use it for our commercial shade sail and shade structure projects, please contact us.