Request a Free Quote

Blog Categories
Commercial 95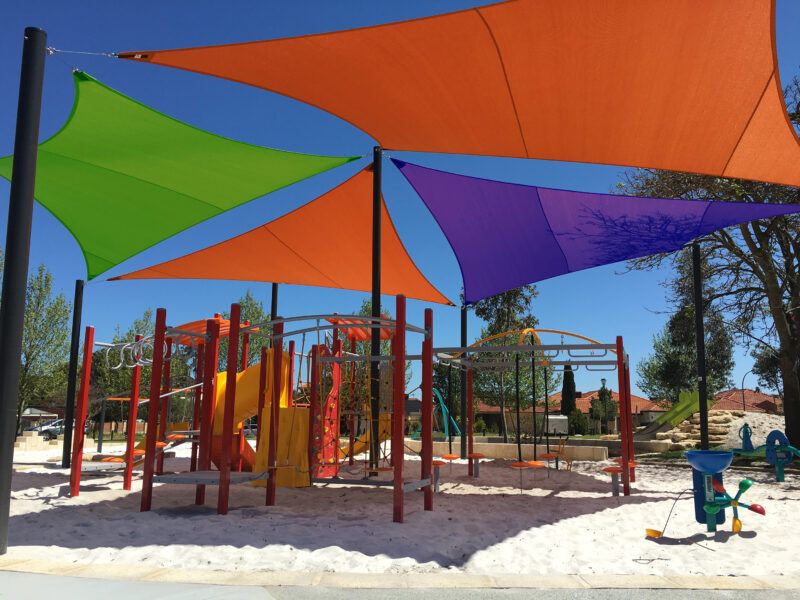 Global Shade is known for delivering high-quality shade solutions that offer excellent UV protection and longevity. However, we're only as good as the fabrics we use, which is why Commercial 95 is one of our preferred shade cloth fabrics.
Commercial 95 is one of the best shade cloth fabrics available, providing exceptional UV protection for both commercial and residential applications. It is recommended by the Cancer Council and can prevent UVR by 91 to 95 per cent.
GALE Pacific is a leading manufacturer of innovative polymer textiles for high-end commercial and industrial uses. They invented knitted shade cloth in the early 1970s and launched their first range in 1976, making them pioneers in the shade cloth market. Today, they are one of the world's largest and most prestigious shade cloth producers.
The Fabric
Engineered in Australia by GALE Pacific, Commercial 95 is an architectural, commercial shade cloth. The 340GSM fabric features a knitted lock-stitch construction, offering resistance to fraying and tearing.
Commercial 95 is a UV-stabilized HDPE constructed with monofilament and tape to provide strength and stability. The fabric is 100% recyclable and devoid of lead and phthalates. It's also the world's first Oeko-Tex® 100 and Greenguard® certified architectural shade fabric. These certifications attest to the fabric's lack of dangerous chemicals and compliance with some of the world's most stringent and comprehensive criteria for low VOC emissions into indoor air.
Commercial 95 is manufactured to high quality and manufacturing standards to withstand Australia's challenging climate. A 10-year UV deterioration warranty on fabric ensures the company's quality assurance for highly tensioned shade structures.
Combining the best of sun protection, strength, and durability, Commercial 95 guarantees long-lasting performance.
The Benefits
Commercial 95 is one of Australia's best shade cloth fabrics and amongst the most popular choices from Global Shade clients due to its strength, flexibility and versatility. However, these aren't its only features. Significant features of Commercial 95 are its fray and tear resistance, UV-R protection, which is 91.1–95.5 per cent. Other noteworthy features include its UV-stabilised, shrink-resistant, and moisture-absorbent properties and the wide 22 colour range that it offers.
The Commercial 95 range includes Aquatic Blue, Black, Bright Green, Brown, Brunswick Green, Cayenne, Cedar, Cherry Red, Deep Ochre, Desert Sand, Gun Metal, Natural, Navy Blue, Orange, Purple, Rivergum Green, Sky Blue, Steel Grey, Turquoise, White, Yellow, and Charcoal.
The Applications
Gale Pacific's Commercial 95 architectural shade fabric is primarily used in domestic, residential, and commercial applications for shade sails and tension structures. It is, nonetheless, advantageous in a wide range of applications.
Common applications include shopping centre car parks, sports courts and sports facilities, outdoor areas, hospitality businesses, commercial and public pools, and other commercial businesses. Other possible applications are educational centres, outdoor dining areas, wineries, council and government amenities, factories and warehouses. Commercial 95 is just as suitable for a range of residential applications, including patios, decks, exterior blinds, ground covers, privacy screens, sandpit covers, and swimming pool covers.
Commercial 95 allows us to create high-quality shade sails and structures that we know will provide an exceptional lifespan. You can be confident that a Commercial 95 shade structure will protect you and your visitors for many years to come.
Conclusion
Gale Pacific's Commercial 95 is unmatched in terms of performance and value regarding the highest-quality shade cloth fabric suitable for both commercial and residential installations.
Global Shade uses Commercial 95 for commercial-grade shade structures due to its robustness, excellent UVR protection ratings, and application versatility. It delivers a perfect blend of strength and UV protection, is easy to fabricate, and requires little maintenance. Additionally, its knitted lock-stitch design promotes air circulation and improves the channelling of cool breezes.
If you would like additional information about Commercial 95 or how we use it for our commercial shade sail and shade structure projects, please contact us as soon as possible.